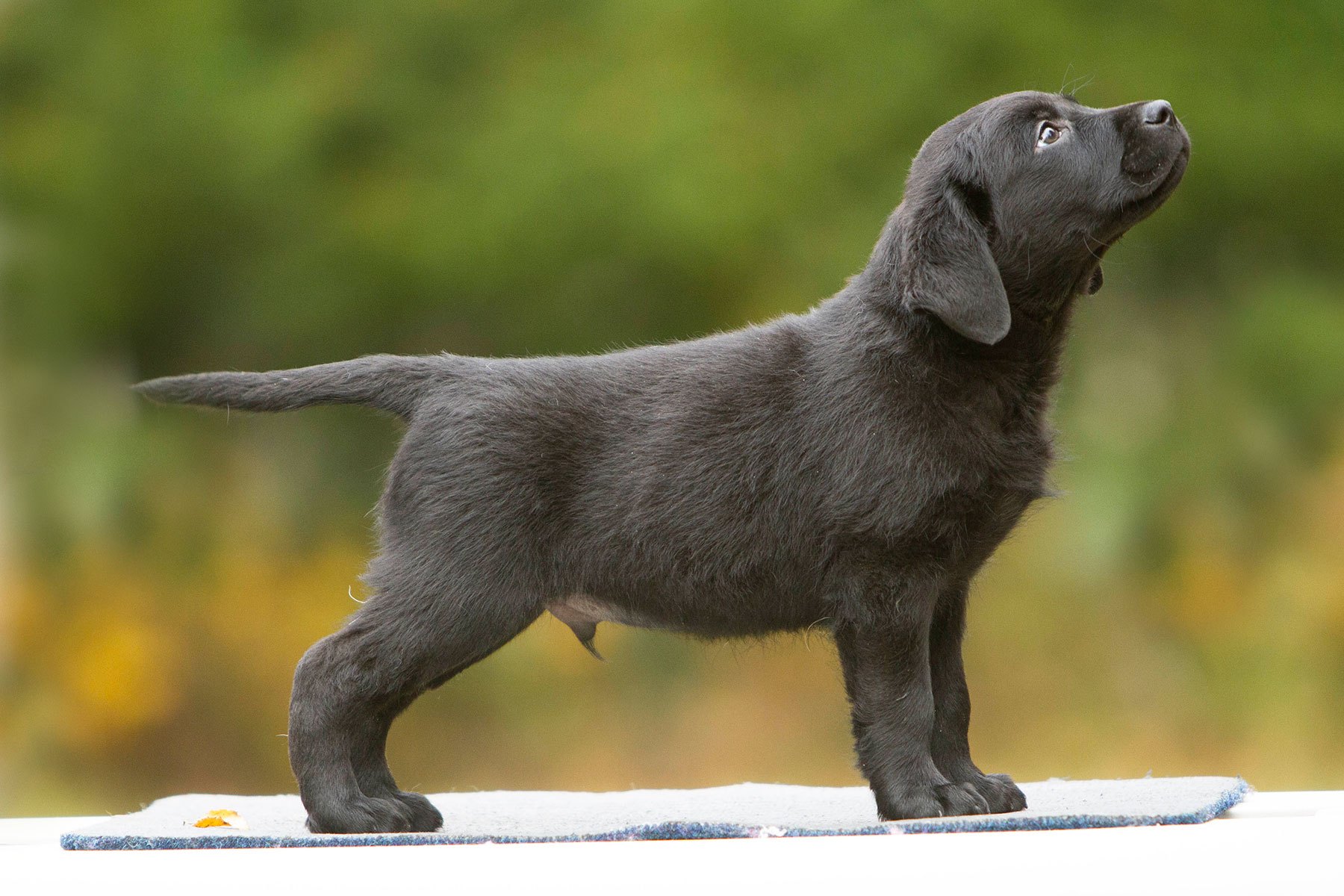 "Rocco"
* 8 weeks old on the photo.
black male (BBEE? BBEe?)
DoB 2.9.2020
Breeder Elen Leigri, kennel Cheya's
Co-owned with Kristjan Ahven, Estonia
HEALTH RECORD
hips —
elbows —
eyes —
prcd-PRA Normal/Clear by Parentage
HNPK Normal/Clear by Parentage
EIC —
In EKU database »

This promising boy joined us from Sammy's last litter. We are happy to have him, thank you, Elen, for the trust! Fingers crossed!
PEDIGREE
Waterline's Think Twice
HD B/A ED 0:0 Eyes Clear (AVCO)
Normal/Clear on prcd-PRA, CNM, HNPK, CY, DM, HUU, PKD
EIC Carrier
(FIN)
AM BISS GCH Mtn Meadow Buckeye Brutus OFA good, ED OFA normal, Eyes Clear, prcd-PRA Normal/Clear Heart OFA Normal
(USA)
AM CH Mtn Meadow Black Eye Affair
AM CH Kai Den´s Black Tie Affair JH
AM CH Mtn Meadow It's About Time
AM CH Mtn Meadow What a Sight
AM CH Springbok's Out'A-Sight
AM CH Mtn Meadow Lady Godiva
Follies Maryland
HD A/A ED 0:0, Eyes Clear, prcd-PRA Clear, EIC Carrier (N/EIC)
(FIN)
AM CH Lubberline Martingale
Hunt Club Clayview Funny Bear
AM CH Hennings Mill Lubberline Jib
Tweedledum Folies Bergerer
C.I.B FI EE RU CH NORDW-01 FIW-01 FIW-02 Follies Storm Petrel
Tweedledum Curtain Call
My Brand Last Night At Cheyas
HD A/A ED 0:0 Eyes Clear
prcd-PRA, HNPK & EIC Normal/Clear
(EST)
Vegas Night Bella Mare
HD A/A ED 0:0 Eyes Clear
prcd-PRA Normal/Clear
Also Normal/Clear on EIC, HNPK, CNM & Narcolepsia
(POL)
AM CH POL CH Dickendall Buckstone Three Dog Night
MBISS AM GRCH CAN CH Saddlehill Late Knight Scramble
CH Dickendall Princess Phoebe
JCH PL Sandamar HySpire I'm So Vain
CH Buttonwood Stone Cliff True Grit
Hyspire It Had To Be You
My Brand Kiss From A Rose
HD B/B ED 0:0 Eyes Clear
prcd-PRA Normal/Clear
HNPK Clear by Parentage
full dentition
(EST)
MEX EST CH Tabatha's Caffu Queijeiro
CH Dickendall Bucky
CH Tabatha's Gala WC
My Brand Rare Stone Rose
BISS CH Big Sky's Stone Kutter
EST LV RUS JCH BALT JW'06 Rocheby Liberty Belle

SHOW RECORD
Hopefully soon
GALLERY