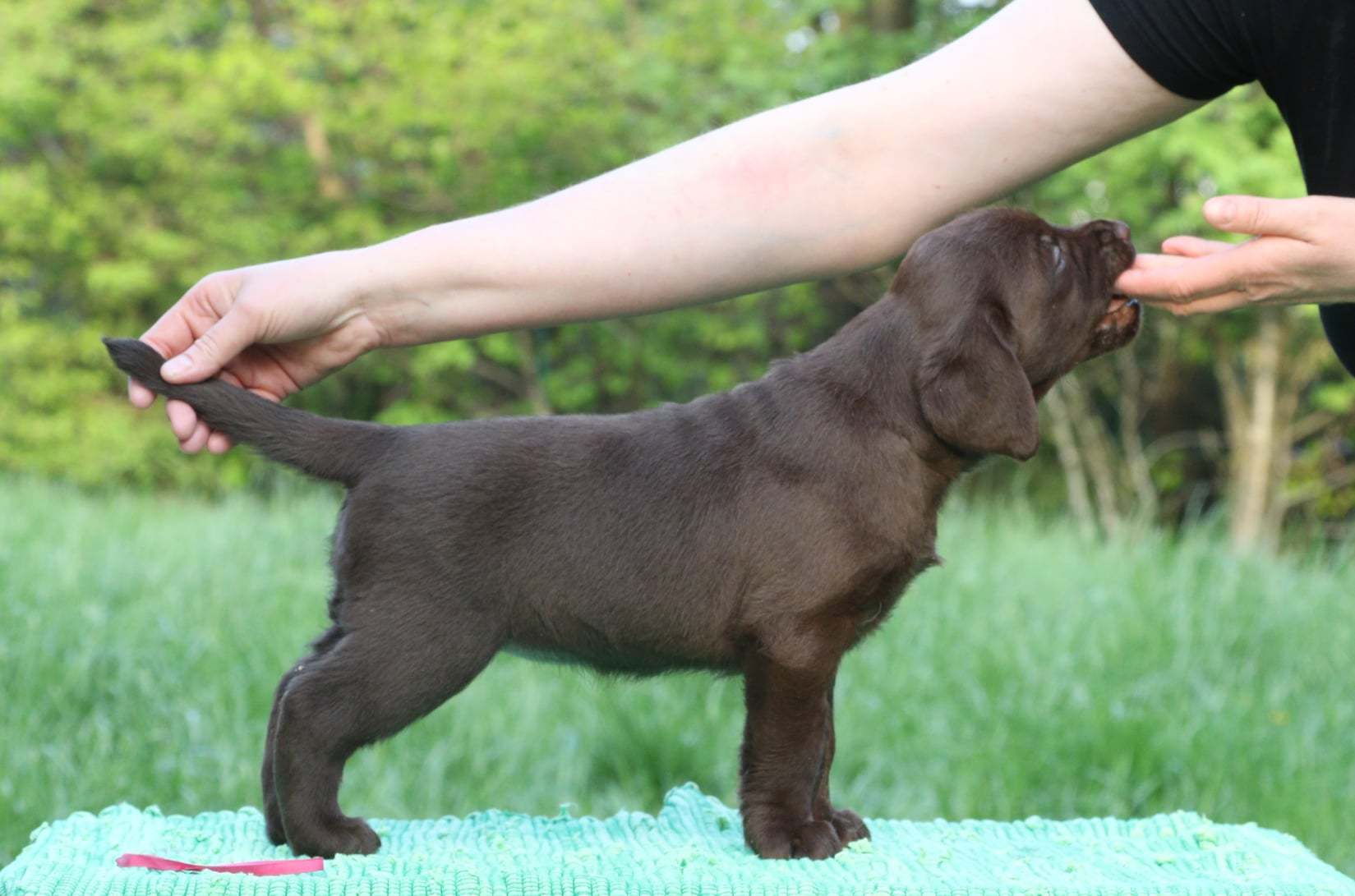 Double Mocha Aquarelle "Mocca"
6 weeks old on the photo. Photo by Maria Magdalena Lisowska.

chocolate female (bbEE, does not carry yellow)
DoB 31.03.2021
HEALTH RECORD
hips —
elbows —
eyes —
heart —
prcd-PRA Normal/Clear by Parentage
EIC —
NHPK Normal/Clear by Parentage
in EKU official database »

Mocca joined our pack just recently, in October 2021. We are grateful to Magda, for trusting this sweet girl with us, thank you!
PEDIGREE
Double Trouble z Grodu Hrabiego Malmesbury
HD A/A ED 0:0 Eyes Clear
Heart ECHO Doppler Clear
prcd-PRA N/N clear
EIC N/N Clear
HNPK N/N Clear
(POL)
POL CH
BEARRY POTTER z Grodu Hrabiego Malmesbury
HD A/A, ED 0:0
PRA & EIC clear
HNPK carrier
(POL)

BISS GCH CH Sheabourne's Grizzly Adams

BISS AM CAN CH Paradocs Obsidian

BISS AM CH Sheabourne's Precious Angel

Lala Tune Black&Chocolate
POL UA CH Mallorn's Love In A Mist
Night Single Endless Love
Labry Berry Buranessa
HD A/A ED O:O
PRA & EIC & HNPK clear
(RUS)

INT CH BALT W'11 HELSINKI W'11 Gilbron Pride Olaf Baltic Rock

SW DK INT NORW NORD POL CH Lab Treasure's Dario
INT LV LTU EST BALT BY CH Stormley Anaka

RUS JCH INT CH Labry Berry Rozamunda

RUS RKF BLR UKR FIN INT CH Stenveyz Get Popular
Stenveyz Heavens Cloud

POL

CH Bridget Jones The Edge Of Reason Aquarelle
HD B/B ED 0:0 Eyes Clear
Heart ECHO Doppler Clear
prcd-PRA N/N clear
EIC Carrier
HNPK N/N Clear
(POL)
POL CH POL JCH Bournhall's On The Waterfront
HD A/A ED 0:0
prcd-PRA Normal/Clear
EIC Normal/Clear
HNPK Normal/Clear
(USA)
AM CH Bournahall's Black Angus
AM CH Dickendall Davaron Gable
Bournhall's Nutmeg Consellation
Moonlit's Tiramisu at Bournhall
AM CH Willcare Leisure Suit Larry
AM CH Moonlit's Teller
POL ROM CH American Evening Star Aquarelle
HD A/A ED 0:0 Eyes Clear
prcd-PRA Normal/Clear
EIC Carrier
(POL)
AM GR CH C.I.E NL LUX VDH LCD-VET CH Big Sky's Heaven Scent from Trinity
MBISS AM GCH CH Big Sky's Stone Kutter
Sheabourne's Mystify
EST LTU JCH POL RUS CH My Brand Miss Sunshine
Mallorn's Romeo
FIN EST LV LTU BALT RUS CH FIN JW'03 Mallorn's Terracotta

SHOW RECORD
Hopefully soon
JUDGES ABOUT HER
Hopefully soon
GALLERY