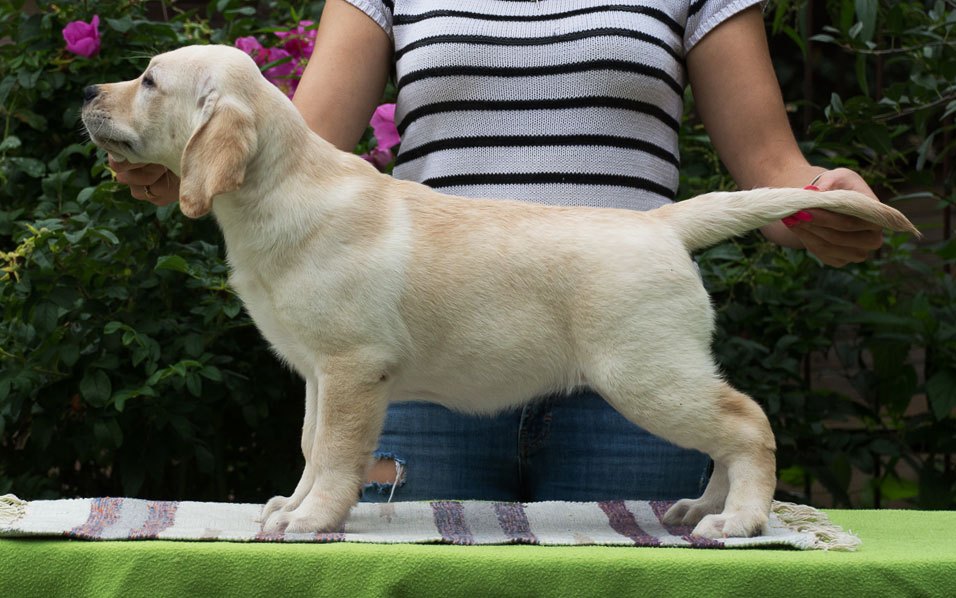 "Minni"
yellow female (BBee, does not carry chocolate)
DoB: 23.05.2019
* 6 weeks old on the photo
breeder Natalie Shamova, kennel Vey Talie, Venemaa
co-owned with Annika Toomla, Viljandi
HEALTH RECORD:
hips, elbows and eyes will be checked on 2020
prcd-PRA Clear by Parentage
EIC —
HNPK Clear by Parentage
In EKU database »

We are over the moon about the arrival of a granddaughter to Mishu (My Brand Enchanted At Vey Talie). She has got quite a pedigree to grow into. We are keeping our fingers crossed for her.
Thank you, Natalie, for the trust!
PEDIGREE:
ITA RUS HUN JCH BLR CH Gentle Charm Alex Winner
HD B/B ED 0:0 Eyes Clear
prcd-PRA & EIC & HNPK Normal/Clear
(RUS)
WW'19 C.I.B C.I.E INT CZE LUX FIN SLO EST RUS LIT RKF CH RUS JCH Rusmairas Bonapart
HD A/A ED 0:0 Eyes Clear
prcd-PRA & EIC & HNPK Normal/Clear
(RUS)

POL RUS UKR BLR CH POL JCH Devonshires In Like Flynn

AM CH Zinfndel Brigham

AM CH Devonshires Darjeeling

RUR RFK LV BLR CH RUS BLR EST JCH Miconti Well-Known
VDH FR NL SW LUX INT CH AMST W'06 Aston de l'Etang Balancet
Miconti First Lady
RUS GCH RKF CH RUS JCH Solandge Perfect Beauty
(RUS)
INT RUS CH GR CH BLR SLO SWI LTU LV CH Lab'SPB Ringmaster For Mary
AM CH Gateway's Nothin' But Trouble
RUS JCH CH American Dream For Lab'SPB
RUSINT RKF MOL LTU LV AZE KAZ CH Lab'SPB Lange Forvard
AM CH Arlon Hyspire Bohemian Ink
INT RUS CH Mallorn's Essencia
Vey Talie Ether Way
HD A/A ED 0:0 Eyes Clear
prcd-PRA & HNPK Clear EIC Carrier
(RUS)
Ch Waterline´s Taking Chances
HD A/A, ED 0:0
prcd-PRA Normal/Clear, EIC Carrier HNPK Clear (N/N)
(FIN)
Multi BISS GCH CH Mountain Meadow Buckeye Brutus
CH Mountain Meadow Black Eye Affair
Mtn Meadow What a Sight
Follies Maryland
AM CH Lubberline Martingale
Tweedledum Folies Bergerer
INT CH RUS CH GCH BLR CH RUS JCH My Brand Enchanted At Vey Talie
HD A/A ED 0:0, Eyes Clear
prcd-PRA Clear
(EST)
NORD SW & NORW CH Licithas Terje Vigen
FIN W'03 Mailiksen Gentleman
NORW CH Licithas Symfoni Norah
FIN EST LV LTU BALT CH EST LV CH EST LV LTU BALT JCH BALT JW'04
9 x BISS Mallorn's Elysee
SW CH NORW CH NW'97 Mambrinos Triumph
FIN CH Mallorn's Xanadu
SHOW RESULTS
Hopefully soon
JUDGES ABOUT HER
Hopefully soon
GALLERY