PL SLO CH Mallorn's Chocomania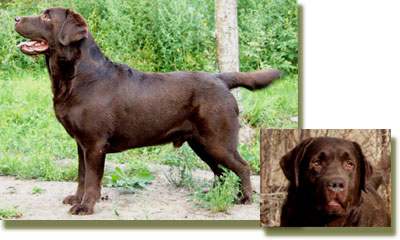 Meil oli au võõrustada meie juures Nimbust, kes on nüüd kenneli Malmesbury oma päevade lõpuni.
Ta vallutas esimesest hetkest meie südamed, oma karumõmmiliku olemuse ja lepliku ning armastusväärse iseloomuga, ta on innukas ujuja ja asjade äratooja.
Igatseme Sinu järele, kallis Nimbus!

KATSETETULEMUSED:


Läbinud retriiverite tõukatsed.
NÄITUSETULEMUSED EESTI VISIIDI AJAL:


Läti, Cecise näitus: parim isane, SERT, VSP,


Labradoride erinäitus 19.08.2006: III koht isaste avaklassis,


Rakvere'06: parim isane-3,

VARASEMAID HETKI:


Soome labradoride erinäitus 8.5.05: parim isane-2, reserv-SERT,


Soome labradoride erinäitus: Best In Show Puppy.
KOHTUNIKE SÕNU:


Jan Roger Sauge (Norway, kennel Mambrinos), 19.08.2006 Labrador Specialty Show in Tallinn - "3,5 years, excellent breed type, lovely head and expression, good neck, front and bone, good topline, good angulations behind, good coat, very well handled" (III place in Open Class).


Marlene Hepper (kennel Mardas, UK) 12.02.2006 Retriever Specialty Show in Tallinn - "excellent type, nice head and expression, good bone and quarters, excellent coat and tail, moves OK."