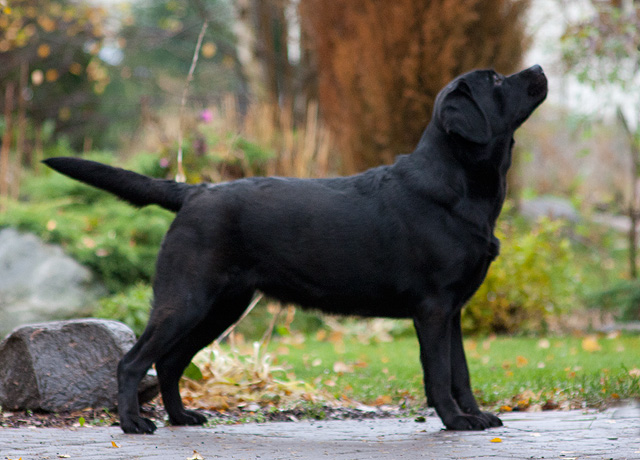 "Pipa-Lotta"
* pildil 1-aastane.
must emane (BBEe, kannab kollast)
sünd: 2.9.2012
kasvataja Heldur Kaasik, Eesti
Omanik Gerd Krieger, Eesti
TERVISEUURINGUD
puusad A/B,
küünarliigesed 0:0,
silmad puhtad (nov'14)
prcd-PRA kandja
HNPK puhas (N/N)
EIC puhas (N/N)
Pipa-Lotta on väga silmapaistev kutsikas Caffu pesakonnast Forest Fan Lilithiga. Rohkem infot tema kohta kindlasti peagi.
PIPA-LOTTA SUGUPUU
MEX EST CH Tabatha's Caffu Queijeiro puusad OFA good, küünarliigesed OFA normal, silmad puhtad, prcd-PRA puhas
(USA)
MEX CH Dickendall Bucky
(USA)
NL CH NLV CW '99 NW '99 Trendmaker's Tycoon
SW DEN FIN NORD CH Trendmakers Mugwump
Trendmakers Traffic Jam
Dickendall Barbie
Mex CH Milton of Little By Little
Tweedledum Calling Texas
AM CH Tabatha's Gala WC
(USA)
AM CH Dickendall Davaron Gable
CH Dickendall Arnold
Wolvercote Gaity Girl
AM CH Tabatha's Giggle WC
Scent Trails Tug Of War
AM CAN CH Tabatha's Dazzle WC
Forest Fan Lilith
HD A/A ED 0:0, Eyes Clear
(EST)
Forest Fan Kerberos
HD A/A ED 0:0 eyes clear
(EST)
Tealway Ali At Bubbling
CL W'02 VDH D CH Tweedledum Crispy Duck
FIN CH Bubbling Me-Oh-My
EST CH Countrylove's Chocolat
FIN CH Loresho Ozzie
Beechcrofts Country Girl
Forest Fan Amanda
HD A/A ED 0:0 eyes clear
(EST)
EST CH Applehill's Mikado
Carrier Mellanööli
Applehills Irina
Juht Aleena
EST CH EST w'05 Ari
Juksi Grigos Ret
NÄITUSTE TULEMUSED
Labradoride erinäitus Savastveres 2.8.2014: "suurepärane" ja kolmas koht noorteklassis (Margaret Brown, UK)
Labradoride erinäitus 3.8.2013: "suurepärane" juuniorklassis (Lene Johansen, DK)
Retriiverite erinäitus 1.6.2013: tõu parim kutsikas, BEST IN SHOW-4 kutsikas!
KOHTUNIKUD TEMAST
Margaret Brown (kennel Ramsayville, UK): "black with feminine head, correct eye colour, well set ears, excellent topline, good layback of shoulder, is short coupled, good length of rib, perhaps a little loose in movement behind, positive in front, sound all through."
PILTE PIPAST