POOLA TŠEMPION
LEEDU TŠEMPION
EESTI TŠEMPION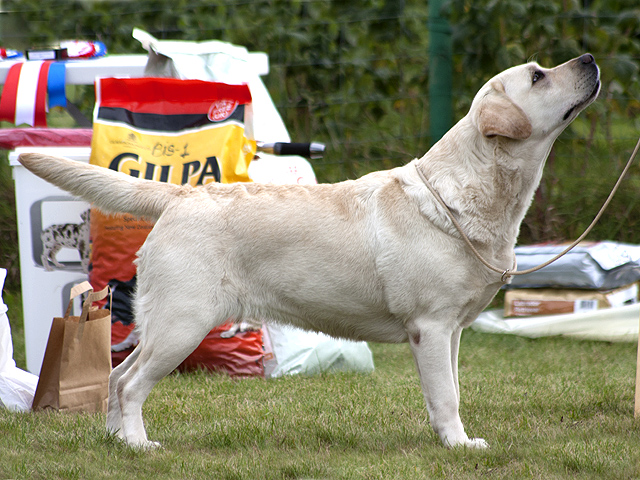 "Ebony"
* pildil 2,5-aastane.
kollane emane (BBee, ei jäta pruuni)
sünd: 22.01.2008
Omanik Maria Magdalena Lisowska, kennel Aquarelle, Poola.
TERVISEUURINGUD
puusad A/A,
küünarliigesed 0:0,
silmad puhtad (juuni'11).
prcd-PRA puhas.
EIC kandja (N/EIC)
Olemas kõik hambad

Olen tänulik Magdale ja Jacekile, Ebony omanikele, kes lubasid Ebony suveks ja sügiseks 2011 Eestisse aretuslaenu. Ta sai kena pesakonna Devonshire London Editioniga ja me jääme põnevusega ootama, mis nendest pisikestest kasvab.
Aitäh, Magda & Jacek, selle võimaluse eest!

EBONY SUGUPUU
NORD SW & NORW CH Licithas Terje Vigen
HD A/A ED 0:0 silmad puhtad
(NORW)
FIN Winner'03 Mailiksen Gentleman
(FIN)
FIN S CH Strongline's Eternal Flame
INT FIN EST CH WW'98 SW'98 ESTW'99 FINW'00 Tawastway's Fooling Around
INT FIN EST CH
Strongline's Jolly Known
FIN CH Mailiksen Lumikki
FIN JCH INT NORD NV SV FIN VCh DK SCH FIN CH Biggas Ynga
Mailiksen Villi-Ruusu
NORW CH Licithas Symfoni Norah
(NORW)
N FIN CH SW'91 W'98 Guideline's Copyright
ENG SH CH Rocheby Royal Oak
Cambremer Copy Cat
NORW CH Licithas Marigold
NORW CH Surprising's Rhufus
Licithas Katinka
FIN EST LV LTU BALT CH EST LV CH EST LV LTU BALT JCH BALT JW'04
9 x BISS
Mallorn's Elysee
HD A/A ED 0:0 silmad puhtad
Optigen prcd-PRA Normal/Clear
(FIN)
SW CH NORW CH NW'97 Mambrinos Triumph
(NORW)
N FIN CH SW'91 W'98 Guideline's Copyright
ENG SH CH Rocheby Royal Oak
Cambremer Copy Cat
NORW CH KBHW'96 NW'98 Mambrinos Celebration
NORW CH Narjana's Thord
NORW CH Gretels Haizel
FIN CH Mallorn's Xanadu
(FIN)
Winnie's Frankfurter Team
Fieldvalley Fabianco
Novacroft Madeleine
FIN CH Mallorn's Poison
FIN CH M'Lady's Snow-Ball
Mallorn's Kiss Me Kate
NÄITUSETULEMUSED
Retriiverite erinäitus 1.10.2011: kasutusklassi võitja (Beppe Masia, ITA)
Läti retriiverite erinäitus 18.09.2011: kolmas tšempionklassis (Yvonne Saussi, SWI)
Poola tšempion (7 või enam CWC/CAC Poolast)
Leedu tšempion (kinnitamisel, 4 x CAC Leedust)
3 x res Cacib (Rumeenia, Šveits, Leedu)
1 CAC ja 1 res CAC Slovakkiast
1 CAC ja 1 res CAC Rumeeniast
1 CAC ja 1 res CAC Šveitsist
2 x res CAC Sloveeniast
kasutusklassi võitja ja CQ Lätist
2 x tõu parim juunior, juuniorvõitja
tõu parim kutsikas
II koht kutsikaklassis (Ungari Labradoride erinäitus 2008 Budapest)
IV koht kutsikaklassis Eurodog show 2008 Budapest
tõu parim beebi ja BEST IN SHOW beebi (Poola retriiverite Club Show 2008)
KOHTUNIKUD ON EBONY KOHTA ÖELNUD
Beppe Masia (kennel Masialab, ITA):
"3 years, very well balanced female with beautiful expression, good neck, shoulder and legs, beautiful depth of chest, barrel ribs, correct tight and hocks, beautiful movement of the tail, drive in action." – kasutusklassi võitja.
KATSETE TULEMUSED
Ebony on läbinud jahikatsed Poolas ning omab rahvusvahelist töösertifikaati.