EESTI JUUNIORTŠEMPION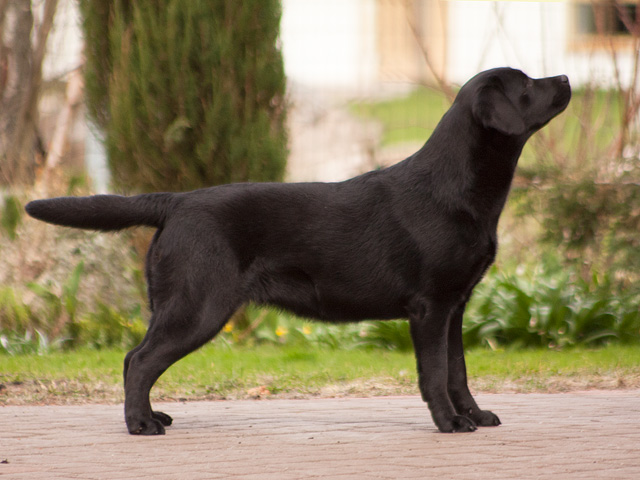 "Victoria"
* fotol 10-kuune.
must emane, BbEe (pärandab kollast ja pruuni)
sünd 16.06.2011
kasvataja Mateja Srimpf, Sloveenia
Omanik Piret Lees, Tallinn
TERVISEUURINGUD:
puusad B/B,
küünarliigesed 0:0
silmad puhtad (sept'16).
prcd-PRA puhas (vanemad puhtad)
EIC kandja
Victoria sai endale justkui iseenesest nime. Ta reisis oma uuele kodumaale, Eestisse, koos Eesti jalgpallimeeskonnaga, kes naases mängult Sloveeniaga, tulemusega 2:1. Nii et mitmel põhjusel tundus nimi Victoria ennast õigustavat 🙂
Selles väikese labradorineiu sugupuus on nii palju sellist, mida ma armastan. Loodan, et temas sünnib midagi uuesti minu erilisest koerast Dollyst, kes pärandas oma lastele ja lastelastele nii suurepäraseid tööomandusi. Samuti ehk on temas killuke Rufusest, sellest nii meeldiva iseloomuga isasest. Hoian pöidlad-varbad ristis, et kõik läheks kenasti.
Aitäh, Mateja, et usaldasid selle kauni tüdruku meile!
SUGUPUU:
GB SH CH EST CH EST JCH Follies Ivar
HD A/A ED 0:0, Optigen prcd-PRA Normal/Clear
(FIN)
Queijeiro Da Vinci (MEX)
Picasso Queijeiro
AM CH Dickendall Arnold
Loone of Little by Little
Luciana Queijeiro-Toca
Dickendall Bruno
Delight Neus Toca Queijeiro
Follies Big Bertha (FIN)
CIB FIN EE LT CH W-06 Follies Mon Oncle
Mallorn's Romeo
Tweedledum Folies Bergerer
Saskian Twix
FIN CH Palabras Keep On Movin'
FIN CH Follies Allie
SLO JCH My Brand Black Velvet
(EST)
EST JCH Bubbling Xerox HD A/A ED 0:0 eyes clear prcd-PRA Clear
(FIN)
Mallorn's Toblerone
SW W'01 NORW FIN SW SH CH Tjotte's Broken Arrow
Mallorn's MMM Marabou
Bubbling Me-Oh-My
GB CH Cambremer Tom Cobbley of Charway
Bubbling Claire De Lune
My Brand Love Story
HD A/A ED 0:0 eyes clear
(EST)
EST LV LTU BALT BLR CH Loresho Love Mail
FIN Winner'03 Mailiksen Gentleman
Loresho Get On
My Brand Design By Angestel
NL CH NLV CV'99 NORD W'99 Trendmaker's Tycoon
INT EST LV LTU BALT RUS BLR CH LT CW'03 EST W'02 Dolly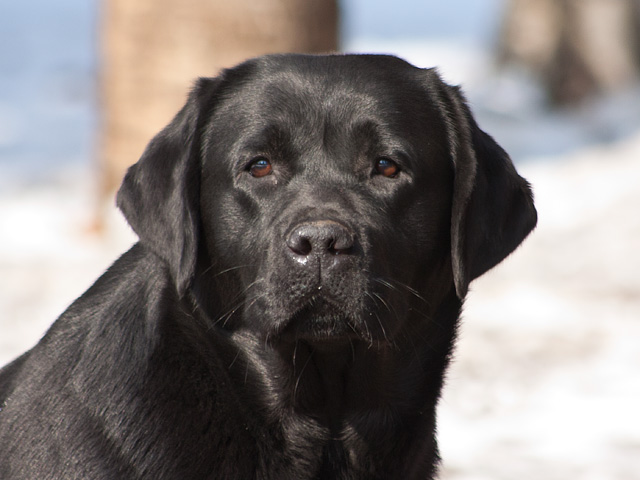 Victoria on sellel pildil 21-kuune.

NÄITUSTE TULEMUSED
INT Minsk 23.11.2014: "suurepärane" avaklassis (Ozan Belkis, TUR)
INT Minsk 22.11.2014: "suurepärane" ja III avaklassis (Luis Manuel Calado Catalan (POR)
Labradoride erinäitus Savastveres 2.8.2014: "suurepärane" ja kolmas koht avaklassis (Margaret Brown, UK)
Labradoride erinäitus 3.8.2013: avaklassi võitja, SK, parim emane-3, SERT (Lene Johansen, DK)
Retriiverite erinäitus 1.6.2013: noorteklassi kolmas (Saskia Rathenau-Beijerman, NL)
Retriiverite erinäitus Narva 27.01.2013: noorteklassis II koht, SK (Pia Itkonen, FIN)
Narva rahvuslik 24.11.2012: juuniorklassi võitja, juunior-sert = EST JCH, VSP-juunior, parim emane-2 (Petar Klaric, HORV)
Luige rahvuslik 8.09.2012: II juuniorklassis, parim emane-4 (Igor Selimovic, SER)
Retriiverite erinäitus 18.08.2012 Tallinn: II juuniorklassis (Gary Johnson, kennel Cremino, UK)
Labradoride erinäitus 17.08.2012 Luigel: juuniorklassi võitja, juunior-sert, tõu parim juunior (Cinzia Masetti Fedi, kennel Dolphingham, IT)
Retriiverite erinäitus 02.06.2012: juuniorklassi võitja, juunior-sert, VSP-juunior (Sigrid Holzen, GER)
Kutsikate & veteranide jõulushow 17.12.2011: VSP-beebi (Kalvo Kriisk, EST).
KOHTUNIKUD TEMAST
Margaret Brown (kennel Ramsayville, UK):"Beautiful outline in this black, so very well balanced overall, excels a neck and shoulders, excellent topline and tailset, has good angulations front and rear, such a lovely bitch and so well presented and handeled, moves soundly."
Lene Johansen (kennel Dee-Fair, DK): "Excellent type, lovely head and expression, beautiful neck amd topline, good depth of compact body, good bone and feet, good coat texture, sound mover."
Saskia Rathenau-Beijerman (NL): "Almost 2 years, black, with lot of temperament, feminine head and experession, good neck and angulations fine, bit long in body, coat and topline and tailset OK, moves with lot of temperament."

Cinzia Masetti Fedi (kennel Dolphingham, IT) 17.08.2012: "Lovely black bitch enjoying the day, beautiful neck set in well laid down shoulders, good body, deep chest, beautifully made angles in front and rear, nice hocks, tail OK, movement fine covering ground well." – TP juunior.
Kalvo Kriisk (EST), All Breed Puppy & Veteran show 17.12.2011: "Suurepärast tüüpi, eriti kaunis pea ja ilmse, suurepärane seljajoon ja pikkusega kael, kaunis esirind, väga hästi nurgistunud eest ja tagant, väga hea iseloom, suurepärane liikuja, väga hästi esitatud." – VSP-beebi.

VEEL PILTE VICTORIAST