ESTONIAN JUNIOR CHAMPION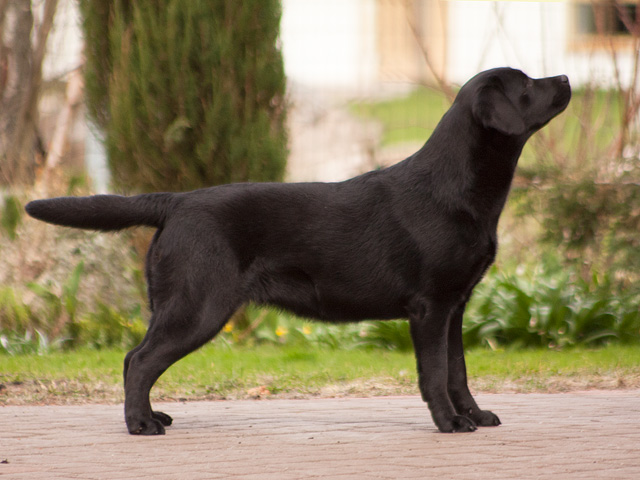 "Victoria"
* 10 months old in the photo
black female, BbEe (carries yellow and chocolate)
DoB 16.06.2011
Breeder Mateja Srimpf, Slovenia
Now owned by Piret Lees, Tallinn.
HEALTH RECORD:

hips B/B,
elbows 0:0
eyes clear (Sept'16).
prcd-PRA Clear By Parentage
EIC Carrier
Victoria has a got a legend to her name. She travelled to Estonia with the Estonian football team, who had just won the game in Slovenia 2:1. So for two reasons it seemed appropriate to name her Victoria 🙂
Hopefully Victoria will have a little bit of her wonderful parents and grandparents, I am so glad to have something back from my once-in-a-lifetime dog Dolly, who has given extraordinary working mentality and something from Rufus, the sweetest male I have ever met. I am so keeping my fingers and toes crossed for her!
She is such a nice puppy and we will be adding more photos and information soon!
Thank You, Mateja, for such a pretty girl!
PEDIGREE:
GB SH CH EST CH EST JCH Follies Ivar
HD A/A ED 0:0, Optigen prcd-PRA Normal/Clear
(FIN)
Queijeiro Da Vinci (MEX)
Picasso Queijeiro
AM CH Dickendall Arnold
Loone of Little by Little
Luciana Queijeiro-Toca
Dickendall Bruno
Delight Neus Toca Queijeiro
Follies Big Bertha (FIN)
CIB FIN EE LT CH W-06 Follies Mon Oncle
Mallorn's Romeo
Tweedledum Folies Bergerer
Saskian Twix
FIN CH Palabras Keep On Movin'
FIN CH Follies Allie
SLO JCH My Brand Black Velvet
(EST)
EST JCH Bubbling Xerox HD A/A ED 0:0 eyes clear prcd-PRA Clear
(FIN)
Mallorn's Toblerone
SW W'01 NORW FIN SW SH CH Tjotte's Broken Arrow
Mallorn's MMM Marabou
Bubbling Me-Oh-My
GB CH Cambremer Tom Cobbley of Charway
Bubbling Claire De Lune
My Brand Love Story
HD A/A ED 0:0 eyes clear
(EST)
EST LV LTU BALT BLR CH Loresho Love Mail
FIN Winner'03 Mailiksen Gentleman
Loresho Get On
My Brand Design By Angestel
NL CH NLV CV'99 NORD W'99 Trendmaker's Tycoon
INT EST LV LTU BALT RUS BLR CH LT CW'03 EST W'02 Dolly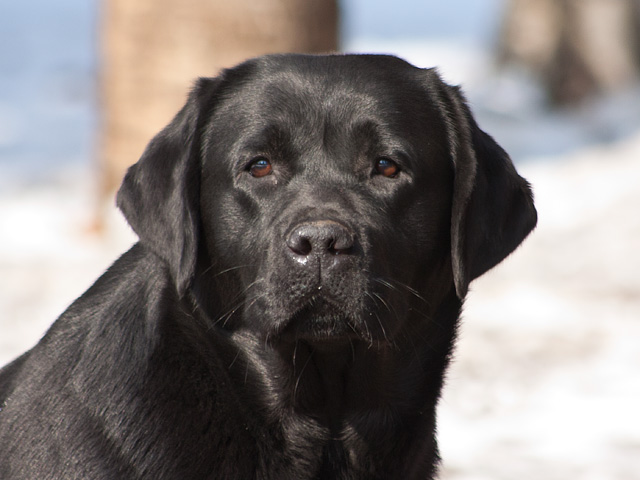 Victoria is 21 months old on this head shot.
SHOW RECORD
INT Minsk 23.11.2014: "excellent" in Open Class (Ozan Belkis, TUR)
INT Minsk 22.11.2014: "excellent" and 3rd in Open Class (Luis Manuel Calado Catalan (POR)
Labrador Specialty Savastvere 2.8.2014: "excellent" and 3rd place in Open Class (Margaret Brown, UK)
Labrador Specialty 3.8.2013: Winner of Open Class, CQ, Best Female-3, CC (Lene Johansen, DK)
Retriever Specialty 1.6.2013: Intermediate Class (Saskia Rathenau-Beijerman, NL)
Retriever Specialty in Narva 27.01.2013: IInd in Intermediate Class, CQ (Pia Itkonen, FIN)
Narva National 24.11.2012: Junior Class Winner, Junior-CC = EST JCH, BOS-Junior, Best Female-2 (Petar Klaric, HORV)
Luige National 8.09.2012: II in Junior Class, Best Female-4 (Igor Selimovic, SER)
Retriever Specialty 18.08.2012 Tallinn: II in Junior Class (Gary Johnson, kennel Cremino, UK)
Labrador Specialty 17.08.2012 Luige: Winner of Junior Class, Junior-CC, Best of Breed Junior (Cinzia Masetti Fedi, kennel Dolphingham, IT)
Retriever Specialty 02.06.2012: Winner of Junior Class, Junior-CC, BOS-Junior (Sigrid Holzen, GER)
Puppy & Veteran Show 17.12.2011: BOS-Baby (Kalvo Kriisk, EST).
JUDGES ABOUT HER
Margaret Brown (kennel Ramsayville, UK):"Beautiful outline in this black, so very well balanced overall, excels a neck and shoulders, excellent topline and tailset, has good angulations front and rear, such a lovely bitch and so well presented and handeled, moves soundly."

Lene Johansen (kennel Dee-Fair, DK): "Excellent type, lovely head and expression, beautiful neck amd topline, good depth of compact body, good bone and feet, good coat texture, sound mover."
Saskia Rathenau-Beijerman (NL): "Almost 2 years, black, with lot of temperament, feminine head and experession, good neck and angulations fine, bit long in body, coat and topline and tailset OK, moves with lot of temperament."
Cinzia Masetti Fedi (kennel Dolphingham, IT) 17.08.2012: "Lovely black bitch enjoying the day, beautiful neck set in well laid down shoulders, good body, deep chest, beautifully made angles in front and rear, nice hocks, tail OK, movement fine covering ground well." – BOB-juunior.
Kalvo Kriisk (EST), All Breed Puppy & Veteran show 17.12.2011: "Suurepärast tüüpi, eriti kaunis pea ja ilmse, suurepärane seljajoon ja pikkusega kael, kaunis esirind, väga hästi nurgistunud eest ja tagant, väga hea iseloom, suurepärane liikuja, väga hästi esitatud." – BOS Baby.

MORE PHOTOS OF HER