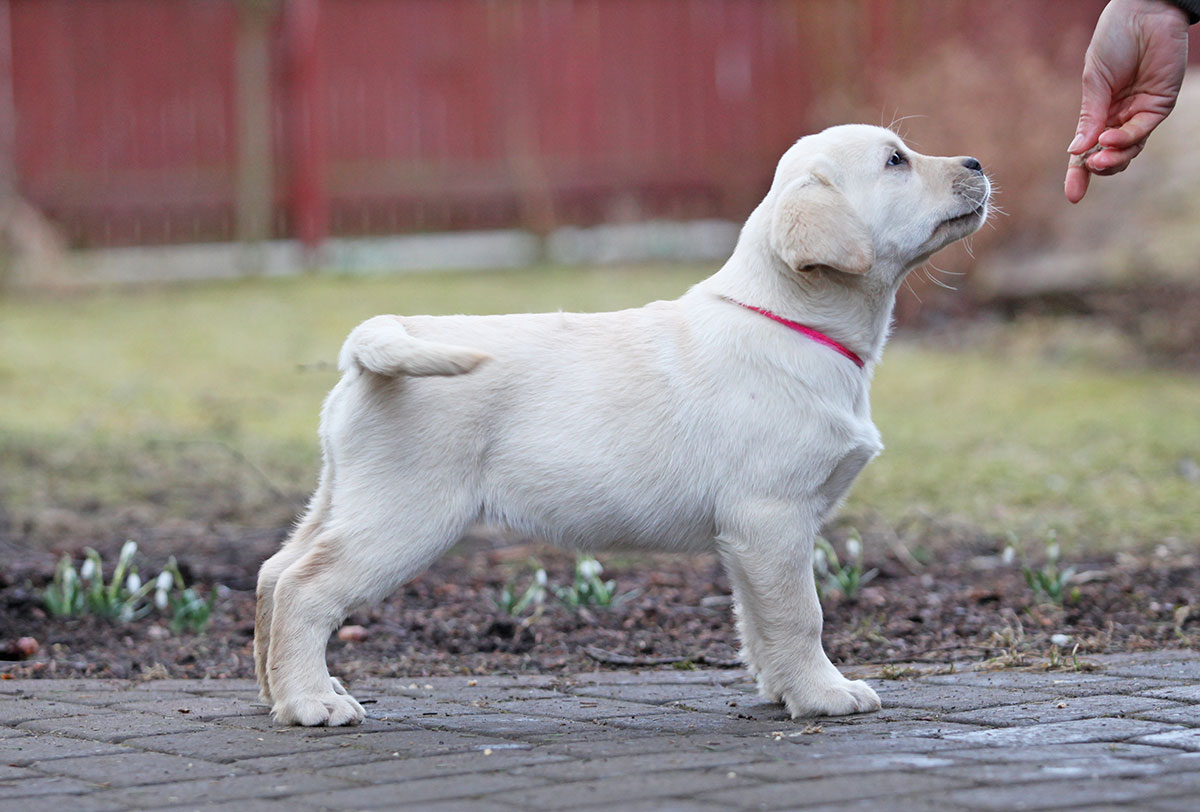 "Adele"
* 11 weeks old on the photo.
yellow female (BBee, does not carry chocolate)
born 1.1.2017
Co-owned with Elen Han, kennel Cheyas, Netherlands
HEALTH RECORD
hips A/A,
elbows 0:0
Eyes Clear (sept'18)
prcd-PRA Normal/Clear (by parentage)
HNPK Normal/Clear (by parentage)
EIC Carrier (N/EIC)

Adeline is a beautiful puppy from the litter by West Sib Story Aidaho & Arctic Sky Aquarelle and this litter represents the co-operation of international breeders.
She is happy and sweet girl and hopefully she has inherited the best traits of her parents and will be also healthy and successful continuing in our breeding program. Her brothers ans sisters live in Finland, Sweden and Poland and hopefully we will hear from them as well. Keeping our fingers crossed!
PEDIGREE
sire: World Winner'16 EUR Winner'16 CIB CIE RUS JCH RUS FIN LTU KZS RKF CH
West Sib Story Idaho
HD A/A ED 0:0
PRA-prcd Normal/Clear
EIC Carrier
(RUS)
Larkspur Lynx
(USA)
CH Larkspur's Lothario
AMCAN CH Paradocs Tabatha's Caillou
Nirvana's Flashpoint
Nirvana's Jade Gate
CH Tabatha's Sport WC
Pipeline Zelda
INT RUS USB KAZ GR RKF CH
Lab'Spb Alabama Girl
(RUS)
CH Gateway's Nothin' But Trouble
CH Julsby Hey Good Lookin'
Gateway's White Dove
CH Mallorn's Esencia
СH

Follies Traveller

Mallorn's Eternity
dam: Arctic Sky Aquarelle
HD C/C ED 0:0 Eyes Clear
prcd-PRA Clear By Parentage
EIC Normal/Clear
HNPK Clear By Parentage
(POL)
POL CH JCH LUX JCH JCW'11
Arthus Sarracenia Majestic Chameleon
(POL)
Buttonwood McIntosh
MBISS AM CAN CH Beechcroft's Study In Black
AM CH Buttonwood Fox Hill Ivy
Wenie Malmesbury Sable Blues
CZ SK CH Tapeatom Choir Master
CH Domenika Sable Blues
POL EST LTU CH My Brand Ebony At Aquarelle
(EST)
NORD SW & NORW CH Licithas Terje Vigen
FIN Winner'03 Mailiksen Gentleman
NORW CH Licithas Symfoni Norah
FIN EST LV LTU BALT CH EST LV CH EST LV LTU BALT JCH BALT JW'04 9 x BISS Mallorn's Elysee
SW CH NORW CH NW'97 Mambrinos Triumph
FIN CH Mallorn's Xanadu

SHOW RECORD
JUDGES ABOUT HER
GALLERY