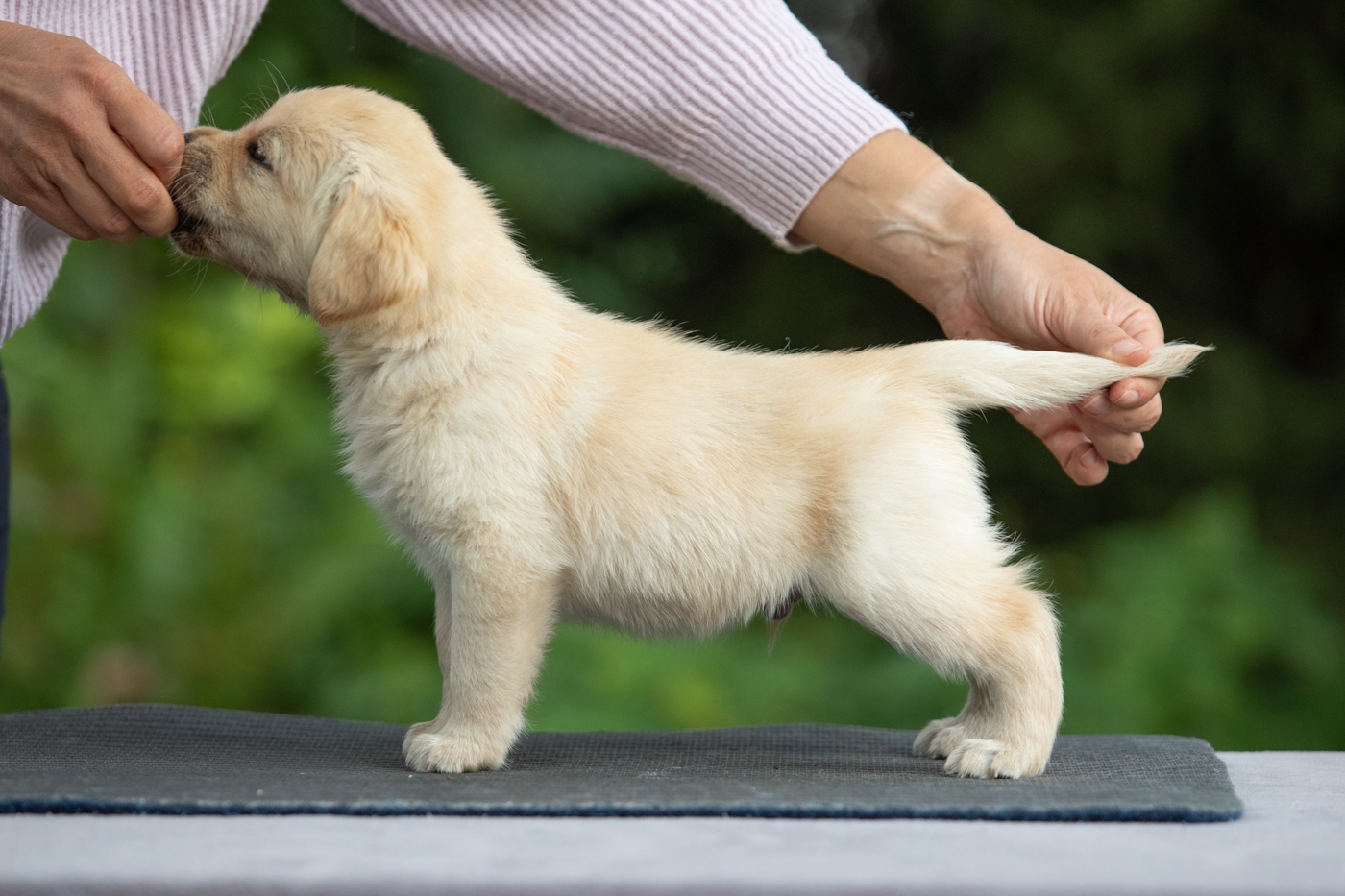 "Snoopy"
yellow male (BBee, does not carry chocolate)
DoB: 24.06.2019
* 6 weeks old on the photo.
HEALTH RECORD
hips A/A
elbows 0:0
eyes clear (July 2020)
Heart Clear (Echo Doppler)
prcd-PRA Clear by Parentage
EIC Carrier
HNPK Clear by Parentage
Long Coat gene Carrier

This pretty boy is from our SOUL-litter by wonderful producer CH Bloomwood Royal Major Globtrotter "Radek" and Touch My Soul Reverie Stream "Hera". We are keeping our fingers crossed for this litter!
Instagram @snoopy_the_yellow_labrador
PEDIGREE:
POL LTU CH POL JCH JW JUN Club'W GDR JUN Club'W Bloomwood Royal Major Globtrotter
HD A/A ED 0:0 Eyes Clear
prcd-PRA Normal/Clear, EIC Clear HNPK Clear
(POL)
DK CH Lobuff-Shannon US Major Attraction
HD A/A ED 0:0 Eyes Clear
prcd-PRA Normal/Clear, EIC Clear HNPK Clear CNM Clear
(USA)

AM CAN CH Lobuff Hollyridge The Aviator WC

AM CH Rozzay Hunt Club Clayview Grady

CH BISS Lobuffs Sandpiper At Hollyridge

Shannon's Amethyst Dreams
AM CH Ridge View Bugs Bunny
Shannon's Rainbow In The Mist
POL RUS UZ MAC CH Merci Herbu Zadora
HD A/A ED 0:0 Eyes Clear
prcd-PRA Normal/Clear, EIC Clear
(POL)
POL CH Kimleigh's New Moon Rising
BISS AM CH Windfall's Pipe Major
AM CH Kimleigh's Once In A Blue Moon
Yunta Yara Herbu Zadora
Nimloth Logan At Herbu Zadora
Zebu Zadziora Herbu Zadora
Touch My Soul Reverie Stream
HD A/A ED 0:0 Eyes Clear
prcd-PRA Clear by Parentage, EIC Carrier, HNPK Clear, long coat carrier
(LV)
FI CH Strongline's Money For Nothing
HD A/A, ED 0:0, prcd-PRA Normal/Clear, EIC Clear (N/N)
(FIN)
LCD JGD CH Flying Firecracker v.d.Weeward
Hunt Club Clayview Super Nova At Belquest
Xtra Ordinairy Xara V.d. Weeward
FI EST CH Strongline's Xantamaria
Sidewild Northern Frost
FI CH Strongline's Quantanamera
LV CH My Brand Rose Is A Rose
HD A/A ED 0:0, Eyes Clear,
prcd-PRA Clear, HNPK Clear
EIC Carrier
(EST)
EST RUS JCH JTWC'15 TWC'15 Tawastway's Snowholic
SW SH CH POL JCH JW'11 NL CH C.I.B. Seawinds Polish Poker
C.I.B FI SW EST CH Tealway Early Bird
My Brand Kiss From A Rose
MEX EST CH Tabatha's Caffu Queijeiro
My Brand Rare Stone Rose
WORK RESULTS
Hopefully soon
SHOW RESULTS
JUDGES ABOUT HIM
Hopefully soon
GALLERY