ESTONIAN JUNIOR CHAMPION
ESTONIAN JUNIOR WINNER 2018
ESTONIAN WINNER 2018
ESTONIAN CHAMPION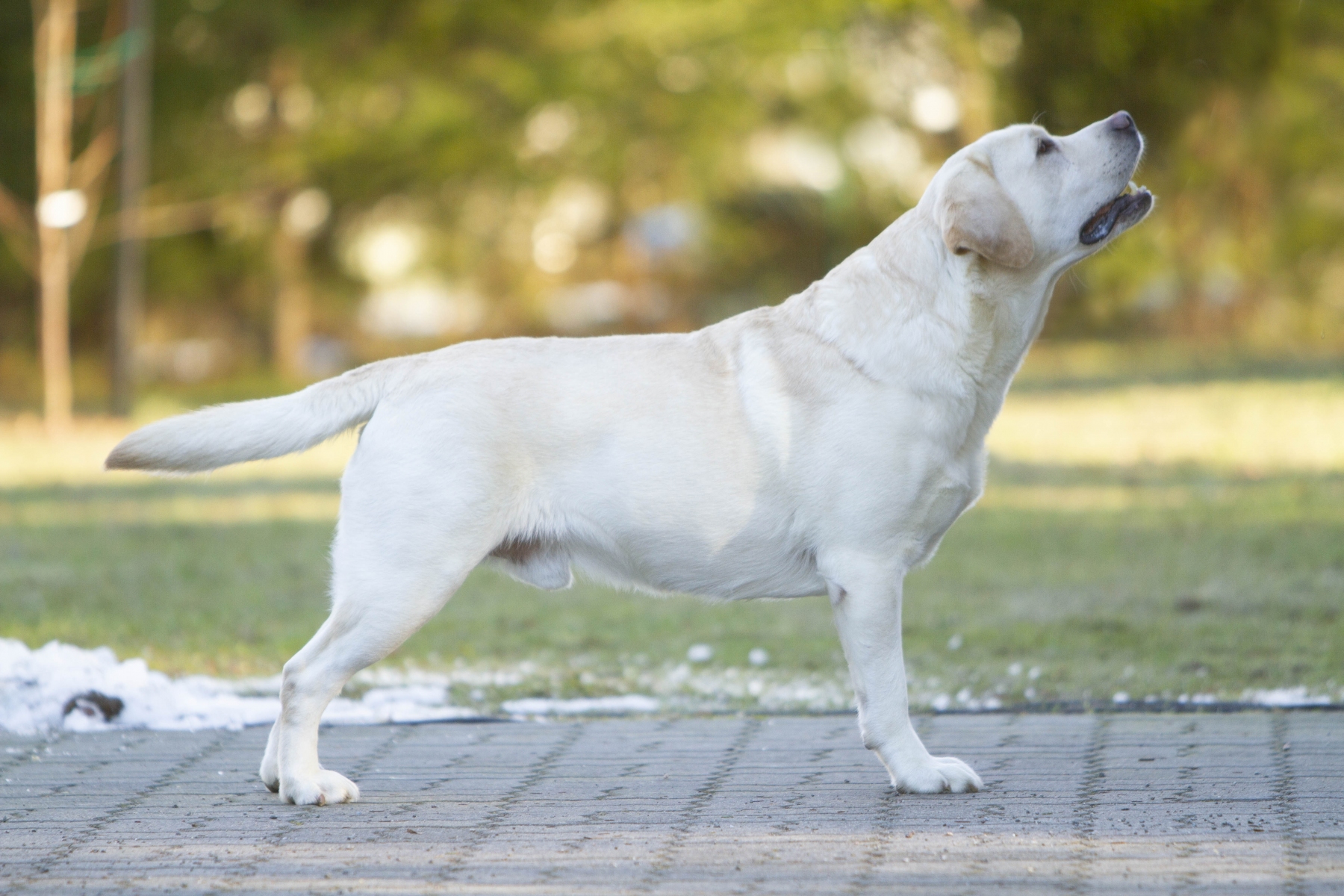 "Blue"
* 4 years old on the photo.
yellow male (BBee, does not carry chocolate)
born 1.1.2017
HEALTH RECORD
hips A/A
elbows 0:0
eyes clear (February 2019)
prcd-PRA Normal/Clear (by parentage)
HNPK Normal/Clear (by parentage)
EIC Normal/Clear (N/N)
does not carry long coat gene

This is our boy from the litter by West Sib Story Aidaho & Arctic Sky Aquarelle and this litter represents the co-operation of international breeders.
Brave and happy, he has inherited the best traits of his parents. Blue and Eliko are training for the retriever working tests and passed the qualification test in July 2020.
PEDIGREE
sire: World Winner'16 European Winner'16 European Winner'17 CIB CIE RUS JCH RUS FIN LTU KZS RKF CH
West Sib Story Aidaho
HD A/A ED 0:0
PRA-prcd Normal/Clear
EIC Carrier
(RUS)
Larkspur Lynx
(USA)
CH Larkspur's Lothario
AMCAN CH Paradocs Tabatha's Caillou
Nirvana's Flashpoint
Nirvana's Jade Gate
CH Tabatha's Sport WC
Pipeline Zelda
INT RUS USB KAZ GR RKF CH Lab'Spb Alabama Girl
(RUS)
CH Gateway's Nothin' But Trouble
CH Julsby Hey Good Lookin'
Gateway's White Dove
CH Mallorn's Esencia
СH

Follies Traveller

Mallorn's Eternity
dam: Arctic Sky Aquarelle
HD C/C ED 0:0 Eyes Clear
prcd-PRA Clear By Parentage
EIC Normal/Clear
HNPK Clear By Parentage
(POL)
POL CH JCH LUX JCH JCW'11 Arthus Sarracenia Majestic Chameleon
(POL)
Buttonwood McIntosh
MBISS AM CAN CH Beechcroft's Study In Black
AM CH Buttonwood Fox Hill Ivy
Wenie Malmesbury Sable Blues
CZ SK CH Tapeatom Choir Master
CH Domenika Sable Blues
POL EST LTU CH My Brand Ebony At Aquarelle
(EST)
NORD SW & NORW CH Licithas Terje Vigen
FIN Winner'03 Mailiksen Gentleman
NORW CH Licithas Symfoni Norah
FIN EST LV LTU BALT CH EST LV CH EST LV LTU BALT JCH BALT JW'04 9 x BISS Mallorn's Elysee
SW CH NORW CH NW'97 Mambrinos Triumph
FIN CH Mallorn's Xanadu


WORK RESULTS
Qualified in the field in Ellamaa 25.07.2020, judge Vesa Tapani Turunen (FIN), handled by Eliko Nuka.
SHOW RECORD
Date
Show
Judge
Class
Results
03.06.2018
INT Estonian Winner 2018
Chantal Varaine (France)
Junior Class
EXC 1 SK PI1 BOS-J BOS-
02.06.2018
Retriever Specialty
Carina Östman (Sweden)
Junior Class
EXC 1 SK BOS-J
01.06.2018
VIII group show, Luige
Hans Van Den Berg (Netherlands)
Junior Class
BOS-J Jun CC
15.04.2018
INT Tallinn Winner 2018
Panche Dameski (Macedonia)
Junior Class
EXC 3
25.03.2018
National, Tallinn
Luis Peixoto (Portugal)
Junior Class
EXC 1 SK PI2 TPJ Jun CC
24.03.2018
National, Tallinn
Tina Peixoto (Portugal)
(Zaur Agabeyli, AZE)
Junior Class
EXC 1 SK PI2 TPJ Jun CC & BIS-4 J
11.02.2018
INT Tallinn Winter Cup'18
Jo Schepers (Netherlands)
Junior Class
EXC 3
10.02.2018
8 & 9 group show, Tallinn
Mariia Gvozdieva (Ukraine)
Junior Class
EXC 3
03.06.2017
Retriever Specialty
Jef Verrees (Belgium)
Baby Class
1 EAH BOS-B
JUDGES ABOUT HIM
Chantal Varaine, FRA:
"Excellent type and proportion, lines with good proportions in head, strong neck, angulations front and rear excellent, deep chest, topline, tailset, movement, a little clamped back."
Carina Östman, SWE:
"Lovely masculine head with lovely proportions and expression, ecellent neck and topline, good tail, good front angulations, very good in back angulations, excellent body, very good bone, parrallel in front and back, moves very nice from behind, coat not the best today."
Hans Van Den Berg, NL:
"17 months old, nice in type, very nice in head shape, strong muzzle, very nice ear ste and dark eye, good front and rear, he is compact with a good croup, very nice in temperament, like in movement very much."
Jef Verres, kennel Lucifer's Delight, Belgium
"4,5 months old lovely yellow boy, sweet temperament, sweet head, good pigmentation, good reach of neck, correct topline, tail well set, in good summer coat, enough angulation, moved and showed well."
GALLERY