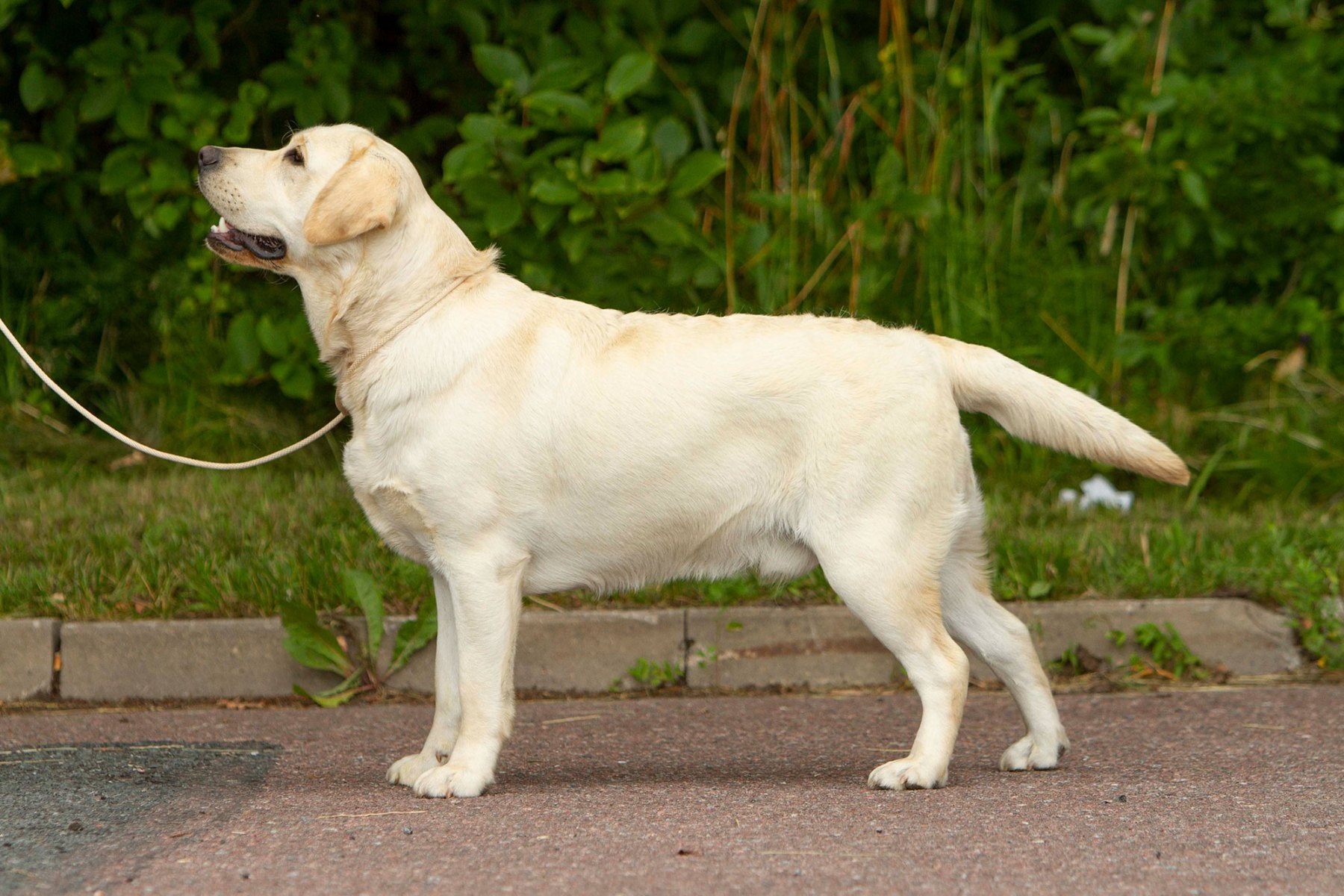 "Archie"
yellow male (BBee, does not carry chocolate)
DoB 7.7.2019
HEALTH RECORD
hips A/A,
elbows 0:0
eyes clear (July 2020)
Heart Clear (Echo Doppler)
prcd-PRA Normal/Clear by Parentage
HNPK Normal/Clear by Parentage
EIC Clear (N/N) by Parentage

Archie is from a beautiful litter by young and already so much achieving CH Maroma's Captains Cove and lovely My Brand Last Night At Cheyas. We are keeping our fingers crossed for Archie and her brothers and sisters!
PEDIGREE
MBISJ MX CH PR CH Maroma's Captain Cove
HD A/A ED 0:0 Eyes Clear (AVCO)
prcd-PRA, CNM, HNPK, long coat & EIC Heart: Clear by Doppler
(MEX)
AM GCH Lakeside Memoir Of Gallivant
Gallivant Big Pine Out of Africa
AM GCH Paradocs Bellwether Heath
AM GCH Big Pine Faith in Africa
AM CH Meredith Herbu Zadora
POL CH Kimleigh's New Moon Rising
Yunta Yara Herbu Zadora
The Princess Of Oz (Concha)
AM CH Lobuff Hollyridge Wizard of Oz
AM CH Lobuff Hollyridge Osprey
Rocheby Replica
Belquest Princess Maya
Summerlin Call of Duty
AM CH Belquest Lovely Lady Lumps
My Brand Last Night At Cheyas
HD A/A ED 0:0 Eyes Clear
prcd-PRA, HNPK & EIC Normal/Clear
(EST)
Vegas Night Bella Mare
HD A/A ED 0:0 Eyes Clear
prcd-PRA Normal/Clear
Also Normal/Clear on EIC, HNPK, CNM & Narcolepsia
(POL)
AM CH POL CH Dickendall Buckstone Three Dog Night
MBISS AM GRCH CAN CH Saddlehill Late Knight Scramble
CH Dickendall Princess Phoebe
JCH PL Sandamar HySpire I'm So Vain
CH Buttonwood Stone Cliff True Grit
Hyspire It Had To Be You
My Brand Kiss From A Rose
HD B/B ED 0:0 Eyes Clear
prcd-PRA Normal/Clear
HNPK Clear by Parentage
full dentition
(EST)
MEX EST CH Tabatha's Caffu Queijeiro
CH Dickendall Bucky
CH Tabatha's Gala WC
My Brand Rare Stone Rose
BISS CH Big Sky's Stone Kutter
EST LV RUS JCH BALT JW'06 Rocheby Liberty Belle

SHOW RECORD
JUDGES ABOUT HIM
Hopefully soon.
GALLERY