ESTONIAN JUNIOR CHAMPION
LATVIAN JUNIOR CHAMPION
LITHUANIAN JUNIOR CHAMPION
BALTIC JUNIOR CHAMPION
LABRADOR CLUB SHOW BEST IN SHOW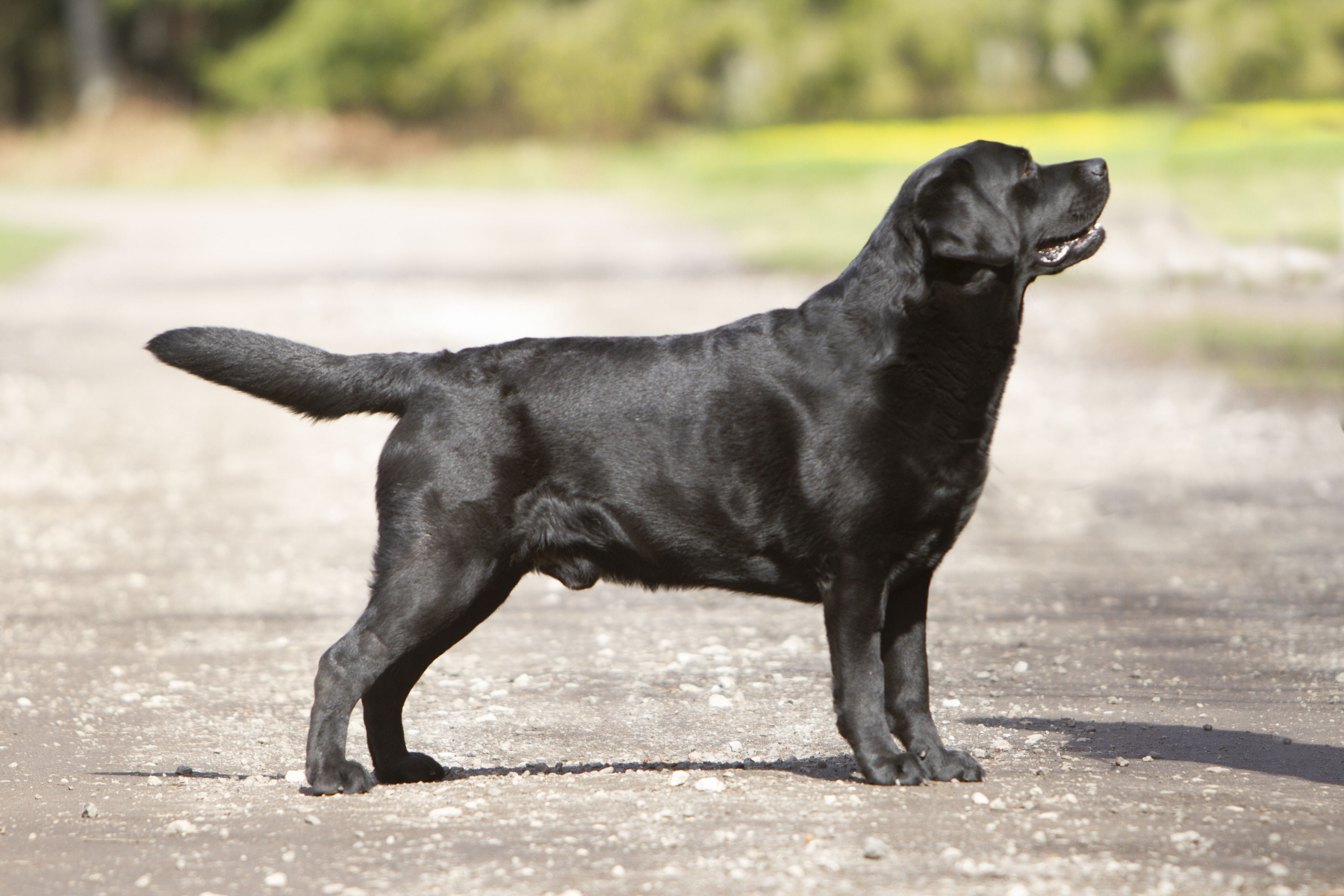 "Rufus"
black male (BBEE, dominantblack)
DoB: 4.5.2017
Owned by Mirja-Helen Järvel, Estonia.
* 4 years old on the photo.
HEALTH RECORD:
hips A/A
elbows 0:0
eyes clear (Jan'19)
heart Normal/Clear (March'21)
prcd-PRA Normal/Clear
DM Normal/Clear
CY Normal/Clear
EIC Carrier (N/EIC)
HNPK Carrier (N/HNPK)

Rufus is a happy and outgoing boy with sweet attitude towards everybody. He was born in the last litter of Velvetline's Zsanett, sired by Markados Pordios Aragorn and his pedigree combines so many dogs we have lived with or known and loved.
PEDIGREE
EST LTU LVA BALT RUS JCH BALT JW16 EST LTU SW CH BALT W17 Markados Pordios Aragorn
HD A/A, ED 0:0, prcd-PRA Clear
(RUS)
Inamorato Gitane Smoker
HD A/A, ED 0:0, prcd-PRA Normal/Clear, EIC Clear (N/N), HNPK Clear
(RUS)
AZ RUS CH Tiger Paws Herbu Zadora
AM GCH Hyspire Shalih Hotter'N Blazes
Yunta Yara Herbu Zadora
RUS GR CH RUS CH RUS JCH Miliy Drug Arina
INT LT POL RUS GR JCH POL CH Lab Treasure's Indeed
CH Chablais Gipsy
Del Prado X&E Nota Bene
RUS BLR LTU CH Follies Mason
AM BISS CH Lubberline Martingale
Tweedledum Folies Bergerer
RUS CH JCH Talliar Shikary Slep Ap Sultana
RUS GCH UKR CH Stenveyz Fahrenheit FT-Duck
RUS RKF CH Stenveyz Charcoal FT-Duck
EST JCH Velvetline's Zsanett
HD B/B ED 0:0, Eyes Clear, prcd-PRA Clear
(SLO)
GB SH CH EST CH EST JCH Follies Ivar
HD A/A ED 0:0, Optigen prcd-PRA Normal/Clear
(FIN)
Queijeiro Da Vinci
Picasso Queijeiro
Luciana Queijeiro-Toca
Follies Big Bertha
CIB FIN EST LT CH W-06 Follies Mon Oncle
Saskian Twix
SLO JCH My Brand Black Velvet
HD (HD A/A ED 0:0 prcd-PRA Clear
(EST)
EST JCH Bubbling Xerox
Mallorn's Toblerone
Bubbling Me-Oh-My
My Brand Love Story
EST LV LTU BALT BLR CH Loresho Love Mail
My Brand Design By Angestel

WORK RESULTS

SELECTED SHOW RESULTS
| Date | Show | Judge | Class | Results |
| --- | --- | --- | --- | --- |
| 16.02.2020 | INT Tallin Winter Cup 2020, Tallinn | Inga Siil (Eesti) | Open | EXC 3 CQ |
| 08.09.2019 | Retriever Specialty, Harjumaa | Siv Sandø (Norway) | Open | EXC 3 |
| 16.08.2019 | Labrador Club Winner'19, Harjumaa | Lotta Vuorinen (Finland) | Open | EXC 1 CQ BM1 BOS CC |
| 10.02.2019 | INT "Tallinn Winter Cup 2019", Tallinn | Bo Skalin (Sweden) | Intermediate | EXC 3 |
| 09.02.2019 | 8. ja 9. rühmade näitus, Tallinn | Maja Bubalo (Croatia) | Intermediate | EXC 1 CQ BM3 |
| 19.01.2019 | 8 ja 9 ruhmanäitus, Jõgevamaa | Vera Alifirenko (Russia) | Intermediate | EXC 1 CQ BM1 BOS |
| 09.09.2018 | Retriiverite erinäitus, Harjumaa | Sergio Scarpellini (Italy) | Junior | EXC 2 CQ |
| 19.08.2018 | INT "Balti Võitja 2018", Harjumaa | Judit Beke (Hungary) | Junior | EXC |
| 18.08.2018 | Retriever Specialty, Luige | Sven Slettedal (Norway) | Junior | EXC 1 CQ BM4 BOSJ Jun CC |
| 17.08.2018 | Labrador Specialty, Harjumaa | Frank Gilroy (UK) | Junior | EXC 4 CQ |
| 28.07.2018 | National All Breed Show, Järvamaa | Peter Machetanz (GER) | Junior | EXC 2 CQ BM2 |
| 22.07.2018 | Rahvuslik näitus, Tartumaa | Jonathan Mesach (Indonesia) | Junior | EXC 1 |
| 21.07.2018 | Rahvuslik näitus, Tartumaa | Dina Korna (Eesti) | Junior | EXC1 CQ BM3 BOSJ Jun CC |
| 15.07.2018 | National All Breed Show, Harjumaa | Jelena Kruus (Eesti) | Junior | EXC 1 CQ BM1 BOSJ Jun CC BOS |
| 14.07.2018 | National All Breed Show, Harjumaa | Avi Mallach (Israel) | Junior | EXC 2 |
JUDGES CRITIQUES
Siv Sando (NOR):
"Very good type and size, lovely head and expression, good neck and shoulders, good proportions and body, in excellent condition, super coat structure, well angulated behind, nice feet, moves very well, excellent temperament."
Frank Gilroy (UK):
"Nice black of good type, like his head neck and shoulders, good brisket, topline and tailset, good barrel rib, deep in chest, good rear angulations, moves well and settled."
Jelena Kruus (EST):
"Excellent type, strong, very well developed for age, masculine head, correct expression, correct earset and carriage, powerful neck, excellent topline, typical tailset and correct angulations front and rear, good turn of ribs, plenty space for heart, moves very well."
Peter Machetanz (GER):
"14 months old, typical for the breed at this age, head with brown eyes, correct bite and pigmentation, correct body, very good front and angulations, correct coat and color, friendly temperament, very good movement."
GALLERY