"Liisu"

chocolate female,
DoB 12.01.2007

hips A/A,
elbows 0:0
Eyes Clear,
prcd-PRA Carrier
EIC Clear (N/N)

Full dentition.

* 2 years old on the photo. More photos in her gallery »
Estonian Champion
Estonian Winner 2008
Estonian Junior Winner 2008
… (more info soon)
LIISU'S PEDIGREE:
Mallorn's Chocomania HD A/A ED 0:0 eyes clear *qualified in the field
S Sh CH Tjotte's Now Or Never HD A/A ED 0:1 eyes clear
DK & S CH Cassatas Aladdin Aces
Rocksteady By Night
S CH Cassatas Ever Bossa Nova
FIN & SW & N CH Tjotte's Babysitter's Nightmare
AM CH Banner's Muskelunge Buckeye
N CH Imp's Strictly Business
FIN CH Boothgate Miz Showbusiness HD B/B ED 0:0 eyes clear
Brandham Show Stopper
Boothgates Kountry Kraft
Brandhams Hot Choice For Oulsmi
Oulsmi Endless Love
Stormley Craftsman At Ludzka
Oulsmi Bold As Brass


EST LV RUS JCH EST JW'05 EST W'05 LV JW'05 Mallorn's Rosabrandy
HD A/A ED 0:0 eyes clear
(FIN)


Visions I'm Able
HD OFA good ED OFA normal, eyes OK
Multi BISS AM CH Sounder's Hear Me Roar
Guideline's Fat Cat
Sounder's Vada Of Somis
AM CH Kelleygreen Amazing Grace
Visions American Express
Kelleygreen Starling
Rosanan La Rosa
HD A/B ED 0:0 eyes OK
Mallorn's Arcturus
FIN CH Mallorn's Shenandigan
FIN CH Boothgates Miz Showbusiness
Rosanan Desert Rose
FIN CH Junior-WW'98 Rosanan Chelsea Bun
FIN CH Rosanan Purple Rose
SHOW RESULTS
Liisu is the mother of our J-litter (10.07.2010), some photos of this litter here.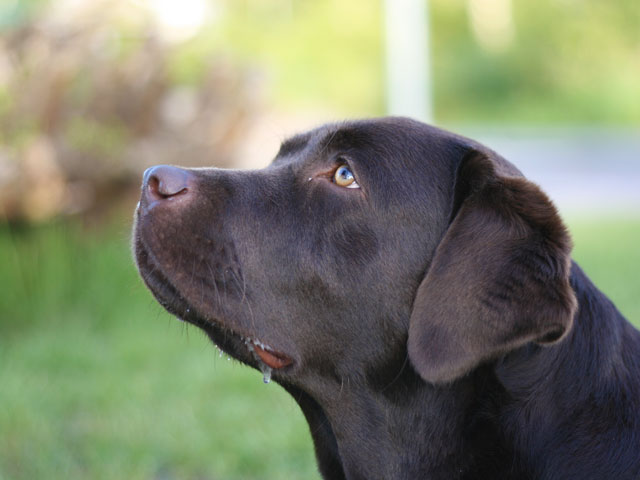 WORK RESULTS

Passed the retriever test 13.06.2009 (judge Risto Heikkonen, FIN) = International Working Certificate.
2 x III grade in Obedience.
JUDGES ABOUT LIISU
Eva Mjelde (NORW, kennel Surprisings) Estonian Winner'09 – "lovely chocolate bitch, sweet feminine head with good expression, lovely neck and shoulders, well made topline with good rear end, in good coat, moves with ease and drive."
Gunilla Ek (SW, kennel Attikonak) Labrador Specialty 9.11.08 – "what a lovely chocolate nearly 2 years of age, lovely feminine head, excellent eye colour, well placed shoulders, with level topline and well set tail, excellent substance in body and bones, moves very well, excellent coat texture and color."
Tom Grant (UK, kennel Simandem) Retriever Specialty 16.08.08 – "nice feminine head, good eye shape, would prefer darker eye, nice neck and topline, good depth and spring of rib, good angulations front and rear, moved very well, good feet."
VIDEOS OF LIISU
Here is the first litter that Liisu had and where EST JCH My Brand Jamaican Soul, EST LV JCH My Brand June Bug, RUS JCH My Brand Jasmine, My Brand Jazz Del Mar and My Brand Jazz Man Do (who also passed the retriever test) and several other lovely dogs have been born. Puppies are 2,5 weeks old on the video.