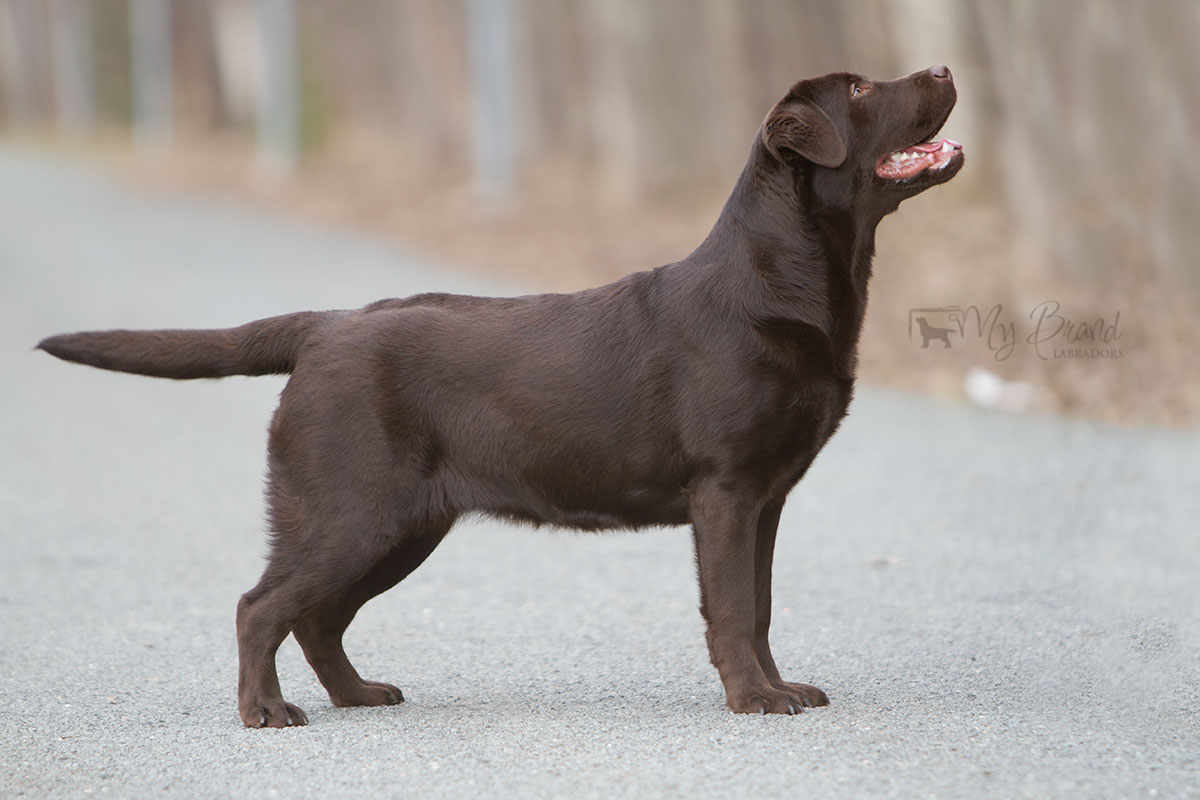 "Simona"
* 8 months old on the photo.
chocolate female (bbEE)
DoB 27.07.2017
Co-owned with Kersti Kuusk, Estonia
HEALT RECORD
hips, elbows and eyes will be examined 2018
PRA-prcd Normal/Clear (by parentage)

Simona origins from a pedigree very close to my heart. Hopefully she will become as nice as her parents are.
PEDIGREE
Waterline's House Blend
HD A/B ED 0:0 silmad puhtad
EIC, HNPK, prcd-PRA Normal/Clear
(FIN)
BISS GCH Time Squares Ulysses
HD OFA Good ED Normal Eyes Clear,
PRA-prcd Normal/Clear RD/OSD Normal/Clear
HNPK Clear CNM Clear EIC Clear DD (USA)
CH Hyspires Hot To Trot
AM CH Hyspire Mo Hotta Mo Betta
HySpire Inky Racer
Minefall's Mel-Lo
AM CH Withara's Brodies Souvenir WC
AM CH Winfall's Stormy Sunrise At Banner CGC
Waterline's Nocciola
HD A/A ED 0:0 Eyes Clear
(FIN)
CH Naiken Way Out West
BISS CH Simerdown's Dr Pepper
Buckholt Katie at Naiken JW
CH Mallorn's Beyond Choco
WVW'13 UA MOL CH Mallorn's Capuccino
Mallorn's Chocomotion
My Brand Special Indeed
HD A/A ED 0:0 Eyes Clear
PRA-prcd Normal/Clear
EIC Carrier
(EST)
RUS RKF BLR UKR FIN INT CH Stenveyz Get Popular
HD A/A, ED 0:0, eyes clear
(RUS)
FIN EST RUS CH Palabras Keep On Movin'
N CH NV-01 Birchbrook Barley Wine of Charway
FIN CH Tweedledum Palabras Kleo
Stenveyz Part of Million
FIN CH Follies Rule of Thumb
INT GRAND RUS LT UKR BLR RKF CH CLUB W'01 '03 Evellan's Halfmillion Kisses For Stenveyz
My Brand Mademoiselle
HD A/A ED 0:0 silmad puhtad
(EST)
Mallorn's Romeo
Visions I'm Able
Rosanan La Rosa
FIN EST LV LTU BALT RUS CH FIN JW'03 Mallorn's Terracotta
SW W'01 NORW FIN SW SH CH Tjotte's Broken Arrow
Mallorn's MMM Marabou

SHOW RESULTS
| Date | Show | Judge | Class | Results |
| --- | --- | --- | --- | --- |
| 29.04.2018 | Rahvuslik näitus, Rakvere | Darko Drobnjak (Serbia) | Juunioriklass | SP 3 SK PE4 |
| 28.04.2018 | Rahvuslik näitus, Rakvere | Olga Kojevnikova (Belarus) | Juunioriklass | SP 3 |
| 15.04.2018 | Rahvusvaheline näitus "Tallinna Võitja 2018", Tallinn Saku Suurhall | Panche Dameski (Macedonia) | Kutsikaklass | 1 EAH VSPK |
| 10.02.2018 | 8 & 9 rühma näitus, sh kuldsete retriiverite erinäitus, Tallinn | Mariia Gvozdieva (Ukraine) | Kutsikaklass | 1 EAH TPK |
| 21.01.2018 | VIII ja IX rühma näitus, Pisisaare, Jõgevamaa | Tatjana Raschikhmarova (Russia) | Beebiklass | 1 EAH TPB |
| 20.01.2018 | VIII ja IX rühma näitus, Pisisaare, Jõgevamaa | Nikolay Sedykh (Russia) | Beebiklass | 1 EAH TPB |
| 16.12.2017 | EKL Jõulushow, Kristiine Spordihall, Tallinn | Attila Czeglédi (Hungary) | Beebiklass | VL 1 TPB |
GALLERY