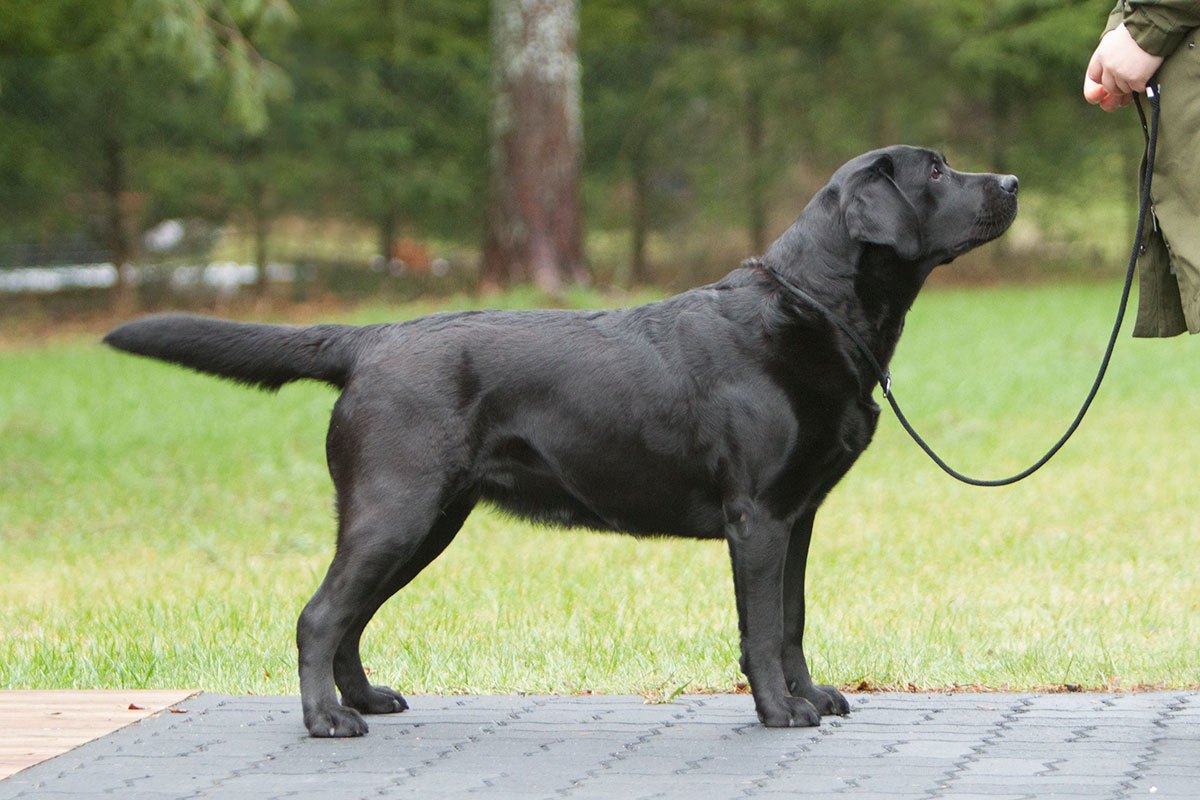 "Pärl"
* 3 years old on the photo.
black female (BbEE, carries chocolate)
DoB: 25.05.2017
Breeder Guna Bluma, kennel Reverie Stream, Latvia
Co-owned with Kaidi Reiljan-Sihvart, Estonia
HEALTH RECORD
hips A/A
elbows 0:0
Eyes Clear (May'20)
prcd-PRA Clear by Parentage
EIC carrier (N/EIC)
HNPK N/N Clear (by parentage)
Pärl was born in one of the Caffu's last litters and has an impressive pedigree.
She is wonderfully representing her parents by sweet character, active and happy temperament.

PEDIGREE
MEX CH Tabatha's Caffu Queijeiro
HD OFA good, ED OFA normal, Eyes Clear, prcd-PRA Normal/Clear
(USA)
MEX CH Dickendall Bucky
(USA)
NL CH NLV CW '99 NW '99 Trendmaker's Tycoon
SW DEN FIN NORD CH Trendmakers Mugwump
Trendmakers Traffic Jam
Dickendall Barbie
Mex CH Milton of Little By Little
Tweedledum Calling Texas
AM CH Tabatha's Gala WC
(USA)
AM CH Dickendall Davaron Gable
CH Dickendall Arnold
Wolvercote Gaity Girl
AM CH Tabatha's Giggle WC
Scent Trails Tug Of War
AM CAN CH Tabatha's Dazzle WC
Heap Gangsta's Love Reverie
HD A/A ED 0:0, Eyes Clear
Normal/Clear on prcd-PRA, EIC, HNPK
(LV)
INT CH POL JCH POL BLK UKR BUL CH Mallorn's Black Gangsta
HD A/A, ED 0:0, prcd-PRA Normal/Clear, EIC Clear
(FIN)
Mallorn's Romeo
Visions I'm Able
Rosanan La Rosa
Mallorn's Premium Chocolate
NORW SW SH CH Mementos Mario
Mallorn's Chocomotion
LV EST CH Valmiera W'16 Club Winner'18 Lauminas Lady Chocolate
HD A/A ED 0:0, Eyes Clear
(LV)
Teepee Teodori Cee Cesar
Countryloves's Choose Me
Gwendolin Z Grodu Hrabiego Malmesbury
Richie Greysylvan
Sylvan Gorska Fantazja
Svetes Greja Fergus

SHOW RECORD
JUDGES ABOUT HER
…

HER GALLERY