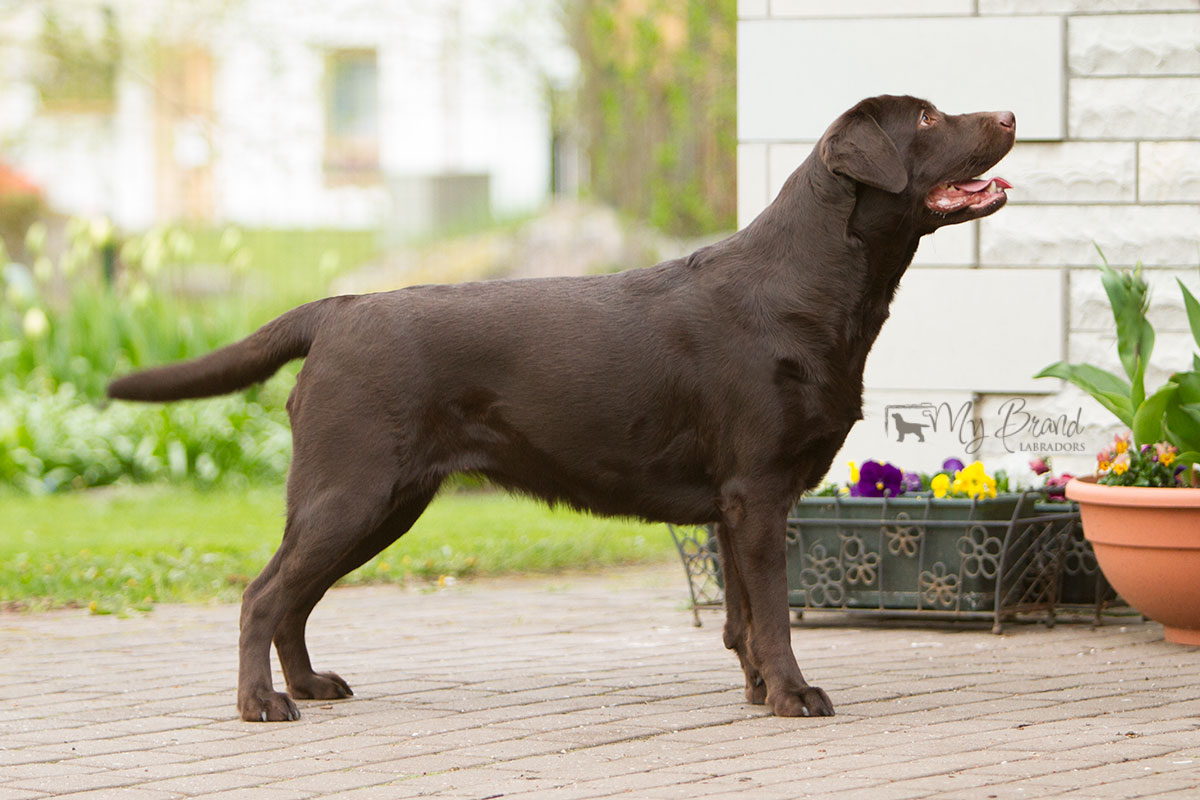 "Saara"
* 2,5 years old and out of coat on the photo.
chocolate female (bbEE, does not carry yellow)
born 24.10.2016
Owner Ida Isabel Kert, Estonia.
HEALTH RECORD
hips A/A,
elbows 0:0
eyes clear (February 2019)
HNPK Carrier (N/HNPK)
EIC Carrier (N/EIC)
PRA-prcd Normal/Clear

Saara is a pretty chocolate puppy from Lucca's very first litter by gorgeous Norbon Hill Chilypepper Reval Dream. Thank you for the trust, Natalja & Olga!
PEDIGREE
BALT JW'15 EST JCH Genuine My Brand Optimus Canis
HD A/A ED 0:0 Eyes Clear
PRA-prcd & EIC & CNM & CY & DM & HUU & PKD Normal/Clear
(POL)
INT CH POL JCH POL BLK UKR BUL CH Mallorn's Black Gangsta
HD A/A, ED 0:0, prcd-PRA Normal/Clear, EIC Clear
(FIN)
Mallorn's Romeo
Visions I'm Able
Rosanan La Rosa
Mallorn's Premium Chocolate
NORW SW SH CH Mementos Mario
Mallorn's Chocomotion
Amazing Poppy Optimus Canis
HD A/A ED 0:0, prcd-PRA Normal/Clear EIC N/EIC
(POL)
PL SK CH Mallorn's Chocomania
SW SH CH Tjotte's Now Or Never
FIN CH Boothgate Miz Showbusiness
POL JCH PL CH Night Night Optimus Canis
POL CH Hercules Poirot Ingver
GODIVA z Tuszyna
EST LV JCH Norbon Hill Chilypepper Reval Dream
HD A/A ED 0:0 Eyes Clear
(EST)
RUS RKF BLR UKR FIN INT CH Stenveyz Get Popular
HD A/A, ED 0:0, eyes clear
(RUS)
FIN EST RUS CH Palabras Keep On Movin'
N CH NV-01 Birchbrook Barley Wine of Charway
FIN CH Tweedledum Palabras Kleo
Stenveyz Part of Million
FIN CH Follies Rule of Thumb
INT GRAND RUS LT UKR BLR RKF CH CLUB W'01 '03 Evellan's Halfmillion Kisses For Stenveyz
Gilbron Pride One Sweet Bon-Bon
HD C/B ED 0:0, Eyes Clear
(LV)
DNK NORD DEU VDH CHL C.I.B SW NOR POL CH KBHV'06 KBHV'07 S KVA CH DNKW'04 DNKV'06 DNKV'07 Lab Treasure's Dario
CIB GB SH CH NORD CH FIN CH GB MVA NO CH Carpenny Walpole
DKCH SECH INTCH DEVDHCH O'Sofinas Quite As Nice
EST JW'04 EST LV LTU BALT BLR JCH LVA W'05 EST LV LTU BALT BLR CH C.I.B Stormley's Anaka
Stormley Karlos
Stormley Haley

SHOW RECORD
GALLERY