"Caffu"
MEXICAN CHAMPION
ESTONIAN CHAMPION

INTERNATIONAL WORKING CERTIFICATE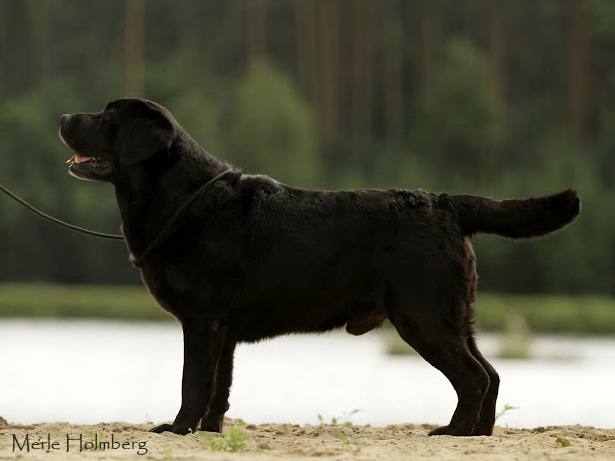 * on the photo 5 years old.
black male (BBEe, carries yellow)
DoB 30.07.2006
breeder Carol Heidl, USA
Owner Manuel Queijeiro, Mexico.
HEALTH RECORD
hips OFA good,
elbows OFA normal,
Eyes Clear (Sept'16)
Optigen PRA Normal/Clear
HNPK (dry nose) = Normal
In OFA database »
He is finally here!!! We are glad to announce that we have a visitor from Mexico – Caffu has arrived to Estonia. This great gentleman has got reason to be proud of, he has sired wonderful puppies in USA and Mexico and as a matter of fact – the TOP1 and TOP2 dogs in Mexico at the moment are by him. Special thanks to all the breeders who have included him in their breeding program.
He has got Tabatha's and Dickendall lines in his pedigree, his sire is MEX CH Dickendall Bucky and mother is gorgeous CH Tabatha's Gala WC.
*NEWS FLASH* Caffu's mother, Tabatha's Gala won the Brood Bitch at Potomac 2012! Congratulations!
**NEWS FLASH** We are so glad to announce that Caffu will be staying with us! I am so glad for the opportunity to have this wonderful teddy bear with us!
Thousand thanks for the trust, Manolo!

CAFFU'S PEDIGREE
Mex CH Dickendall Bucky
(USA)
NL CH NLV CW '99 NW '99 Trendmaker's Tycoon
(SW)
SW DEN FIN NORD CH Trendmakers Mugwump
Beechcroft's Royal Standard
Guideline's Manuscript
Trendmakers Traffic Jam
Smart Fellow's Order From New York
Blondella Balanced Shades
Dickendall Barbie
(USA)
Mex CH Milton of Little By Little
Foxrush Poetry In Motion
Rascal of Claydiggers
Tweedledum Calling Texas
CH Dickendall Arnold
Tweedledum Mascara
CH Tabatha's Gala WC
(USA)
CH Dickendall Davaron Gable
(USA)
CH Dickendall Arnold
CH Dickendall Ruffy SH
Dickendall A-Ha
Wolvercote Gaity Girl
Eng CH Sandylands Gad-About
Kimvalley Geisha Girl at Wolvercote
CH Tabatha's Giggle WC
(USA)
Scent Trails Tug Of War
CH Guideline's Century Condensed
Specl Occasion Putwyn Prairie
Am & Can CH Tabatha's Dazzle WC
CH Dickendall Arnold
CH Tabatha's Valleywood Decoy

SHOW RESULTS
8th Group Specialty 11.2.2017: II in Veteran Class (Jari Partanen, NOR)
Labrador Specialty in Tallinn 29.5.2015: 3rd in Veteran Class, CQ (Paul Collins, UK)
INT Minsk 24.11.2013: 4th in Champion Class (Ligita Zake, LV)
INT Minsk 23.11.2013: 3rd in Champion Class (Bozena Ovesna, CZECH)
Labrador Specialty 3.8.2013: Winner of Champion Class, CQ, Best Male-2 (Lene Johansen, DK)
Estonian Winner'13 2.06.2013: 3rd in Champion Class, Best Male-4 (Juta Haranen, EST)
Retriever Specialty 1.6.2013: Winner of Champion Class, Best Male, CQ, BOS (Saskia Rathenau-Beijerman, NL)
Rakvere 21.10.2012: 2nd in Champion Class, Best Male-2 (Elena Ruskovaara, FIN)
Rakvere 20.10.2012: 2nd in Champion Class, Best Male-2, CC (Beata Petkevica (LV)
European Winner 2012, Romania: IVth in Champion Class (Damir Skok, CRO)
Luige 8.09.2012: Winner of Champion Class, CC, Best Male-3 (Igor Selimovic, SER)
Tallinn International 12.02.2012: 2nd in Champion Class, Best Male-4 (Alexey Belkin, RUS)
Tartu International 6.11.2011: Best of Breed, CC and CACIB (Ewa Nielsen, SW)
Tartu International 5.11.2011: Winner of Open Class, Best Male-3 (Rajandra Salvi, IND)
Moscow, Retriever-Autumn 22.10.2011: "excellent" in Open Class (John Kuijpers, NL)
Labrador Retriever Club of the Twin Cities 27.08.2010: Reserve Winners Dog (Mrs Cindy Vogels, USA)
WORK RESULTS
International Working Certificate.

JUDGES ABOUT HIM
Jari Partanen (NOR):

"Super breed type, noble oldman, excellent head, beautiful expression, super strong neck, excellent body, fabulous croup, active otter tail, hard to access his movement today, this dog melts my heart, I wish you many good moments together!"

Borje Johanssen (SW):


"Excellent type, masculine head, kind expression, dark eye, strong muzzle, strong neck, perfect shoulder and upper arm, good long ribcage, perfect topline, strong in hindquarters, excellent tail, in summer coat, very kind boy, very happy in movement, moves well."

Paul Collins (UK):


"Excellent condition for his age, lovely masculine head, good angulations front and rear, good set of tail, moves better than many dogs half his age! Owner should be very proud of him!"

Lene Johansen (DK):


"excellent type, lovely head and expression, good neck and forechest, well angulated, good ribcage, strong topline, very sound mover."

Juta Haranen (EST):


"peaaegu 7-aastane, tugev korpus, väga hea esirind, väga head nurgad, ilus saba, maskuliinne pea ja ilme, liigub väga hästi, hea tõukega, hästi esitatud."

Saskia Rathenau-Beijerman (NL):


"Lovely black, shows lot of breed type, supercoat, good angulations and body, very good showing."

Beata Petkevica (LV):


"6,5 years, excellent type, excellent head and expression, strong neck, compact body, good feet, good angulations, good work of tail, excellent temperament."

Susanna Wiles (UK):


"Balanced black of excellent breed type, well proportioned head with a kind eye and expression, strong neck and good depth of chest, good coat and typical tail, good bone, moved ok and showed steadily."

John Kuijpers (NL):


"5 years old, excellent dog, very nice strong head, good expression, good neck, topline and tailset, excellent front, nice body, excellend hind angulations, loveli bone and feet, moves well."


PHOTOS OF HIM

PHOTOS OF HIS PUPPIES AROUND THE WORLD