"Caffu"
MEHHIKO TŠEMPION

EESTI TŠEMPION
RAHVUSVAHELINE TÖÖSERTIFIKAAT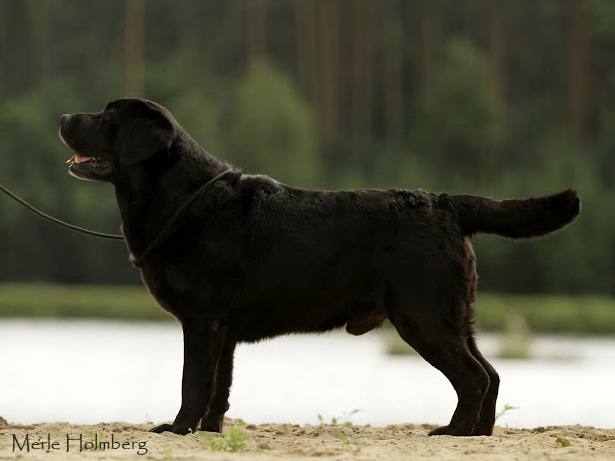 * Pildil 5-aastane.
must isane (BBEe, kannab kollast)
sünd 30.07.2006
kasvataja Carol Heidl, USA
omanik Manuel Queijeiro, Mexico.
TERVISEUURINGUD
puusad OFA good,
küünarliigesed OFA normal,
Silmad puhtad (Sept'16)
Optigen PRA Normal/Clear
HNPK (kuiv nina) = Normal (N/N)
Meil on olnud suur au ja rõõm võõrustada Eestis Mehhikost saabunud Caffut, võrratu iseloomu ja suurepärase välimikuga koera. Ta on tõeline džentelman ja muhe härrasmees, kellel on põhjust uhke olla – aastal 2011 Mehhiko kennelklubi arvestuses TOP 1 ja TOP 2 labradorid on tema lapsed. Nüüdseks võib ta olla uhke ka Euroopas mitmeid tiitleid ja töötulemusi saavutanud laste üle, kellest on pilte ka allolevas galeriis. Aitäh kõigile kasvatajatele, kes on valinud Caffu oma aretusprogrammi.
Caffu sugupuust leiad Tabatha's ja Dickendall koeri. Tema isaks on Mex CH Dickendall Bucky ja emaks kaunis erinäituste võitja CH Tabatha's Gala WC, kelle vanemad on samuti võitnud erinäitusi.
*Caffu ema, Tabatha's Gala võitis aretusemaste klassi maailma suurimal labradoride erinäitusel Potomac 2012! Palju õnne!
Caffu jääb oma pensionipõlve veetma Eestisse. Tuhat tänu, Manolo, usalduse eest!

CAFFU SUGUPUU
Mex CH Dickendall Bucky
(USA)
NL CH NLV CW '99 NW '99 Trendmaker's Tycoon
(SW)
SW DEN FIN NORD CH Trendmakers Mugwump
Beechcroft's Royal Standard
Guideline's Manuscript
Trendmakers Traffic Jam
Smart Fellow's Order From New York
Blondella Balanced Shades
Dickendall Barbie
(USA)
Mex CH Milton of Little By Little
Foxrush Poetry In Motion
Rascal of Claydiggers
Tweedledum Calling Texas
CH Dickendall Arnold
Tweedledum Mascara
CH Tabatha's Gala WC
(USA)
CH Dickendall Davaron Gable
(USA)
CH Dickendall Arnold
CH Dickendall Ruffy SH
Dickendall A-Ha
Wolvercote Gaity Girl
Eng CH Sandylands Gad-About
Kimvalley Geisha Girl at Wolvercote
CH Tabatha's Giggle WC
(USA)
Scent Trails Tug Of War
CH Guideline's Century Condensed
Specl Occasion Putwyn Prairie
Am & Can CH Tabatha's Dazzle WC
CH Dickendall Arnold
CH Tabatha's Valleywood Decoy

NÄITUSTE TULEMUSED
8. rühma erinäitus 11.2.2017: teine veteranklassis (Jari Partanen, NOR)
Labradoride erinäitus Tallinnas 29.5.2015: III koht veteranklassis, SK (Paul Collins, UK)
INT Minsk 24.11.2013: tšempionklassis neljas (Ligita Zake, LV)
INT Minsk 23.11.2013: tšempionklassis kolmas (Bozena Ovesna, CZH)
Labradoride erinäitus 3.8.2013: tšempionklassi võitja, SK, parim isane-2 (Lene Johansen, DK)
Eesti Võitja'13 2.06.2013: tšempionklassis kolmas, parim isane-4 (Juta Haranen, EST)
Retriiverite erinäitus 1.6.2013: tšempionklassi võitja, parim isane, SK, VSP (Saskia Rathenau-Beijerman, NL)
Rakvere 21.10.2012: tšempionklassis teine, parim isane 2 (Elena Ruskovaara, FIN)
Rakvere 20.10.2012: tšempionklassis teine, parim isane 2, SERT (Beata Petkevica (LV)
European Winner 2012: IV koht tšempionklassis (Damir Skok, CRO)
Luige 8.09.2012: tšempionklassi võitja, sert, parim isane-3 (Igor Selimovic, SER)
Tallinn rahvusvaheline 12.02.2012: tšempionklassis teine, parim isane-4 (Alexey Belkin, RUS)
Tartu rahvusvaheline 6.11.2011: tõu parim, sert ja CACIB (Ewa Nielsen, SW)
Tartu rahvusvaheline 5.11.2011: avaklassi võitja, parim isane-3 (Rajandra Salvi, IND)
Moskva, Retriever-Osen 22.10.2011: "suurepärane" avaklassis (John Kuijpers, NL)
Labradoride erinäitus Twin Cities 27.08.2010: Reserve Winners Dog (Mrs Cindy Vogels, USA)
KATSETE TULEMUSED
Rahvusvaheline töösertifikaat.
KOHTUNIKUD TEMAST
Jari Partanen (NOR):

"Super breed type, noble oldman, excellent head, beautiful expression, super strong neck, excellent body, fabulous croup, active otter tail, hard to access his movement today, this dog melts my heart, I wish you many good moments together!"

Borje Johanssen (SW):


"Excellent type, masculine head, kind expression, dark eye, strong muzzle, strong neck, perfect shoulder and upper arm, good long ribcage, perfect topline, strong in hindquarters, excellent tail, in summer coat, very kind boy, very happy in movement, moves well."
Paul Collins (UK):


"Excellent condition for his age, lovely masculine head, good angulations front and rear, good set of tail, moves better than many dogs half his age! Owner should be very proud of him!"

Lene Johansen (DK):


"excellent type, lovely head and expression, good neck and forechest, well angulated, good ribcage, strong topline, very sound mover."

Juta Haranen (EST):


"peaaegu 7-aastane, tugev korpus, väga hea esirind, väga head nurgad, ilus saba, maskuliinne pea ja ilme, liigub väga hästi, hea tõukega, hästi esitatud."

Saskia Rathenau-Beijerman (NL):


"Lovely black, shows lot of breed type, supercoat, good angulations and body, very good showing."

Beata Petkevica (LV):


"6,5 years, excellent type, excellent head and expression, strong neck, compact body, good feet, good angulations, good work of tail, excellent temperament."


Susanna Wiles (UK):


"Balanced black of excellent breed type, well proportioned head with a kind eye and expression, strong neck and good depth of chest, good coat and typical tail, good bone, moved ok and showed steadily."

John Kuijpers (NL):


"5 years old, excellent dog, very nice strong head, good expression, good neck, topline and tailset, excellent front, nice body, excellend hind angulations, loveli bone and feet, moves well."

PILDID CAFFUST
PILTE CAFFU KUTSIKATEST ÜLE MAAILMA