"Hidalgo"

kollane isane (eeBB, ei kanna pruuni)
sünd: 14.04.2011

puusad C/C,
küünarliigesed 1:0
silmad uuritakse peagi.
Olemas kõik hambad.

Hidalgo on nüüd Christel Ilvese hea hoole all. Aitäh, Christel!

* pildil 16-kuune. Rohkem pilte tema galeriis »
Hidalgo on sündinud My Brand Edelweissi ja Follies Ivari pesakonnas. Ta on rõõmsa iseloomuga vallatu poiss, kelle aitasid välja valida sõbrad, kellel on kamba peale kokku üle 100 aasta labradorikogemust. Neile ei saa ju vastu vaielda?
Oma iseloomult on Hidalgo just selline, nagu üks labradoripoiss olema peab – tingimusteta sõbralik ja alati valmis teistega mängima, samas väga kontaktne ja kuulekas. Me gusta!
Hidalgo on vahel meiega näitustele kaasa pääsenud ja siiani saavutanud suurepäraseid tulemusi. Jääme põnevusega ootama, mida tulevik sellele noormehele toob.
Hidalgo sugupuu

GB SH CH EST CH EST JCH Follies Ivar
HD A/A ED 0:0, Optigen prcd-PRA Normal/Clear
(FIN)
Queijeiro Da Vinci (MEX)
Picasso Queijeiro
AM CH Dickendall Arnold
Loone of Little by Little
Luciana Queijeiro-Toca
Dickendall Bruno
Delight Neus Toca Queijeiro
Follies Big Bertha (FIN)
CIB FIN EE LT CH W-06 Follies Mon Oncle
Mallorn's Romeo
Tweedledum Folies Bergerer
Saskian Twix
FIN CH Palabras Keep On Movin'
FIN CH Follies Allie
My Brand Edelweiss
(EST)
NORD SW & NORW CH Licithas Terje Vigen HD A/A ED 0:0 eyes clear
(NORW)
FIN Winner'03 Mailiksen Gentleman
FIN S CH Strongline's Eternal Flame
FIN CH Mailiksen Lumikki
NORW CH Licithas Symfoni Norah
N FIN CH SW'91 W'98 Guideline's Copyright
NORW CH Licithas Marigold
FIN EST LV LTU BALT CH EST LV CH EST LV LTU BALT JCH BALT JW'04 9 x BISS Mallorn's Elysee HD A/A ED 0:0 eyes clear Optigen prcd-PRA Normal/Clear (FIN)
SW CH NORW CH NW'97 Mambrinos Triumph
N FIN CH SW'91 W'98 Guideline's Copyright
NORW CH KBHW'96 NW'98 Mambrinos Celebration
FIN CH Mallorn's Xanadu
Winnie's Frankfurter Team
FIN CH Mallorn's Poison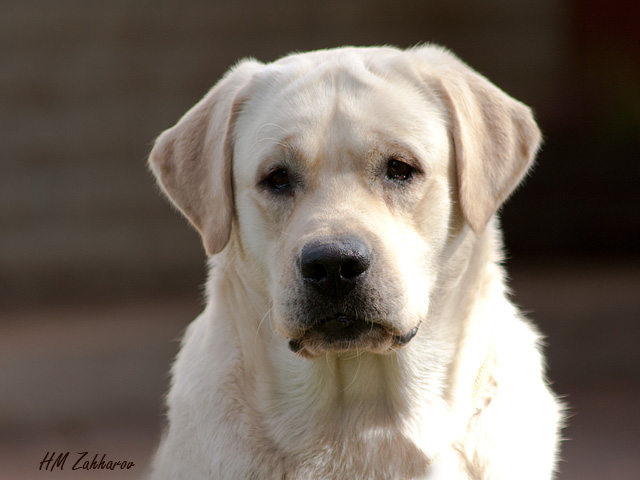 Näitusetulemused
Rakvere 1.04.2012: "väga hea" juuniorklassis (Markku Mähonen, FIN)
Rakvere 31.03.2012: "suurepärane", IV koht juuniorklassis (Inga Siil, EST)
Tallinn rahvusvaheline 12.02.2012: VSP-juunior, juunior-sert (Alexey Belkin, RUS)
Labradoride erinäitus Soomes 4.02.2012: "suurepärane" juuniorklassis (Sussie Wiles, UK)
Tartu rahvusvaheline 6.11.2011: tõu parim kutsikas (Ewa Nielsen, SW)
Tartu rahvusvaheline 5.11.2011: I kutsikaklassis (Rajandra Salvi, IND)
Rakvere 15.10.2011: tõu parim kutsikas (Marja Talvitie, FIN)
Retriiverite erinäitus 1.10.2011: III beebiklassis (Beppe Masia, ITA)
Läti retriiverite erinäitus 18.09.2011: tõu parim beebi, BEST IN SHOW-2 beebi (Yvonne Saussi, SWI)
Viimsi 11.09.2011: tõu parim beebi (Olga Koznevnikova, BLR)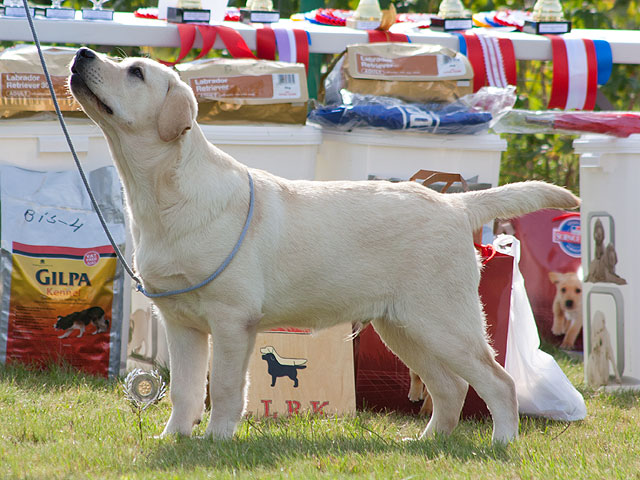 Hidalgo oli Läti retriiverite erinäitusel 18.09.2011 tõu parim beebi ning BEST IN SHOW-2 beebi.
Kohtunikud temast
Susanne Wiles (kennel Richbourne, UK): "Yellow of nice type with a kind eye and expression, good length of muzzle and good pigmentation, good reach of neck, good topline, correct tail, good depth of chest, excellent turn of stifle, strong hindquarters, needs to grow a little longer leg to balance the picture, movement needs to tighten, showed very well."
Beppe Masia (kennel Masialab, ITA): "5,5 months, good shape with correct proportions in the muzzle and skull, good reach of neck, level topline, good bone front and rear, well down set hocks, moves soundly, very promising."

Yvonne Saussi (SWI): "5 months old, already very well developed, typical masculine head, dark eye with soft expression, long neck, excellent front angulations, excellent forechest and chest, excellent topline, excellent tailset and tail carriage, very good hind angulations, excellent bone, moves well, very well shown." tõu parim beebi ja BIS-2 beebi.
Hidalgo pildigalerii

Video Hidalgost