"Liisu"

pruun emane,
sünd 12.01.2007

puusad A/A,
küünarliigesed 0:0
silmad puhtad,
prcd-PRA kandja
EIC puhas (N/N)

Olemas kõik hambad.

* pildil 2-aastane. Rohkem pilte Liisu galeriis »
Eesti tšempion
Eesti Võitja 2008
Eesti Juuniorvõitja 2008
… (iseloomustus peagi)
LIISU SUGUPUU:
Mallorn's Chocomania HD A/A ED 0:0 eyes clear *qualified in the field
S Sh CH Tjotte's Now Or Never HD A/A ED 0:1 eyes clear
DK & S CH Cassatas Aladdin Aces
Rocksteady By Night
S CH Cassatas Ever Bossa Nova
FIN & SW & N CH Tjotte's Babysitter's Nightmare
AM CH Banner's Muskelunge Buckeye
N CH Imp's Strictly Business
FIN CH Boothgate Miz Showbusiness HD B/B ED 0:0 eyes clear
Brandham Show Stopper
Boothgates Kountry Kraft
Brandhams Hot Choice For Oulsmi
Oulsmi Endless Love
Stormley Craftsman At Ludzka
Oulsmi Bold As Brass


EST LV RUS JCH EST JW'05 EST W'05 LV JW'05 Mallorn's Rosabrandy
HD A/A ED 0:0 eyes clear
(FIN)


Visions I'm Able
HD OFA good ED OFA normal, eyes OK
Multi BISS AM CH Sounder's Hear Me Roar
Guideline's Fat Cat
Sounder's Vada Of Somis
AM CH Kelleygreen Amazing Grace
Visions American Express
Kelleygreen Starling
Rosanan La Rosa
HD A/B ED 0:0 eyes OK
Mallorn's Arcturus
FIN CH Mallorn's Shenandigan
FIN CH Boothgates Miz Showbusiness
Rosanan Desert Rose
FIN CH Junior-WW'98 Rosanan Chelsea Bun
FIN CH Rosanan Purple Rose
NÄITUSTE TULEMUSED
Liisu on meie J-pesakonna (10.07.2010) ema, pilte sellest pesakonnast siin.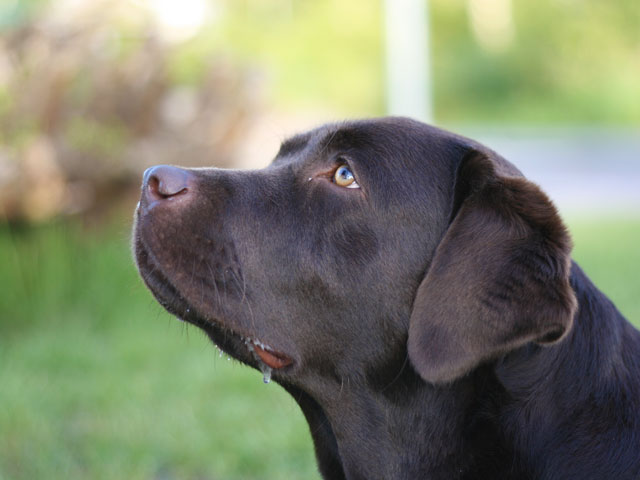 KATSETE TULEMUSED

Läbinud retriiverite tõukatsed 13.06.2009 (kohtunik Risto Heikkonen, FIN) = rahvusvaheline töösertifikaat.
2 x III järk sõnakuulelikkuse algklassis.
KOHTUNIKUD LIISU KOHTA
Eva Mjelde (NORW, kennel Surprisings) Eesti Võitja'09 – "lovely chocolate bitch, sweet feminine head with good expression, lovely neck and shoulders, well made topline with good rear end, in good coat, moves with ease and drive."
Gunilla Ek (SW, kennel Attikonak) Labradoride erinäitus 9.11.08 – "what a lovely chocolate nearly 2 years of age, lovely feminine head, excellent eye colour, well placed shoulders, with level topline and well set tail, excellent substance in body and bones, moves very well, excellent coat texture and color."
Tom Grant (UK, kennel Simandem) Retriiverite erinäitus 16.08.08 – "nice feminine head, good eye shape, would prefer darker eye, nice neck and topline, good depth and spring of rib, good angulations front and rear, moved very well, good feet."
LIISU VIDEOD
Sellel videol on Liisu esimene pesakond, mis sündis 10.07.2011 ja millest on pärit EST JCH My Brand Jamaican Soul, EST LV JCH My Brand June Bug, RUS JCH My Brand Jasmine, tõukatsed läbinud My Brand Jazz Del Mar ja My Brand Jazz Man Do ning mitmed teised toredad koerad. Video tehtud 2,5 nädalat peale kutsikate sündi.