EESTI JUUNIORTŠEMPION
LÄTI JUUNIORTŠEMPION

EESTI TŠEMPION
LÄTI TŠEMPION
LÄBINUD RETRIIVERITE TÕUKATSED = RAHVUSVAHELINE TÖÖSERTIFIKAAT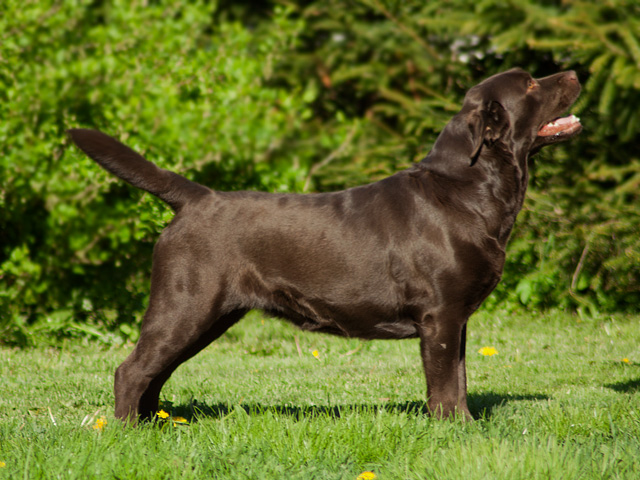 "Juanita"
* 2-aastane pildil
pruun emane (bbEE, ei kanna kollast)
sünd: 10.07.2010
Omanik Kristi Kauponen, Eesti
TERVISEUURINGUD
puusad A/A
küünarliigesed 0:0
silmad puhtad (mai'13)
prcd-PRA kandja
EIC kandja (N/EIC)
olemas kõik hambad
Juanita isaks on CH Banner's Epoch Jasper ja emaks CH My Brand Immaterial Girl. See pruun neiu hiilgab oma suurepärase karva, hea luustiku ja armsa peaga. Tal on ka pildiga kokkusobivalt tore iseloom, ta on leebe ja tahab väga inimesele meeldida.
Tema näitusekarjäär on olnud lühike, ent juba selle jooksul on ta jõudnud Best In Show ringides käpa soojaks saada.
Juanita on läbinud retriiverite tõukatsed ja on nüüdseks pensionil.
SUGUPUU

INT ROM POL CH LTU W'11 AUSTR EST LV LTU BALT JCH
Banners Epoch Jasper
hips A/A elbows 0:0, Optigen prcd-PRA Normal/Clear
(USA)
Nipntuck Olly Olly Oxen Free
(USA)
AM CH Cressmoor's Iron Oxen
Epoch's Edward of Bonaventure
Honorbright Cressmoor's Vixen
AM CH Nipntuck Miss American Pie
Brooklands Charlie Brown
AM CH Twinkle In Your Eyes
Banner's Little Debbie At Epoch
(USA)
AM CH Epoch's Bacardi Joe Banner
AM CAN CH Banners Muskelunge Buckeye
AM CH Epochs Rum Raisin The Banner
Serendipity's Pocket Change
AM CH Stonecrest's Davey Crocket
Epochs Kahlua Banner
EST JW'08 EST W'08 EST CH My Brand Immaterial Girl
HD A/A ED 0:0 eyes clear, Optigen prcd-PRA Carrier, EIC Clear
(EST)
PL SLO CH Mallorn's Chocomania
HD A/A ED 0:0
(FIN)
S Sh CH Tjotte's Now Or Never
DK & S CH Cassatas Aladdin Aces
FIN SW NORW CH Tjotte's Babysitter's Nightmare
FIN CH Boothgates Miz Showbusiness
Brandhams Show Stopper
Oulsmi Endless Love
EST LV RUS JCH EST JW'05 EST W'05 LV JW'05 Mallorn's Rosabrandy (FIN)
Vision's I'm Able
MULTI BISS AM CH Sounder's Hear Me Roar
AM CH Kelleygreen Amazing Grace
Rosanan La Rosa
Mallorn's Arcturus
Rosanan Desert Rose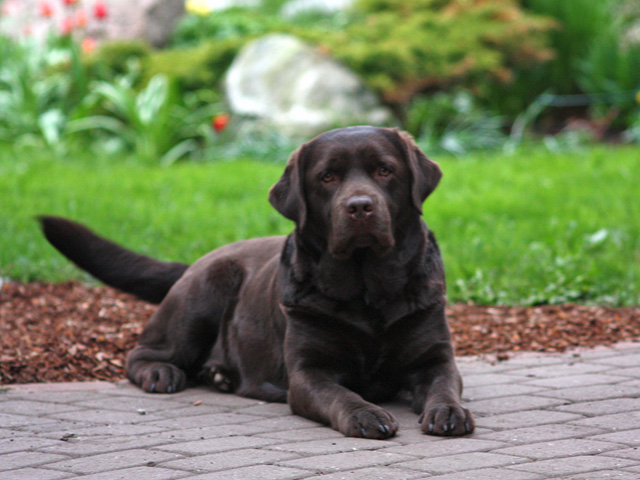 NÄITUSETULEMUSED
Luige 30.06.2013: Best Female, CC, BOS = EST & LV CH (…)
Haapsalu 29.06.2013: 2nd in Working Class (…)
Estonian Winner'13 2.06.2013: Winner of Working Class, Best Female-3 (Juta Haranen, EST)
Retriever Specialty 1.06.2013: Winner of Working Class (Saskia Rathenau-Beijerman, HOL)
Jaunmarupe 22.07.2012: Open Class Winner, Best Female, Best of Breed! (Margret Möller-Sieber, GER)
Jaunmarupe 21.07.2012: Open Class Winner, Best Female, CC, BOS (Boris Aleksandrov, UKR)
Zooexpo Riga 30.1.2011: Winner of Junior Class (Barbara Müller (CH)
Estonian Retriever Specialty 1.10.2011: Best of Breed Junior, BEST IN SHOW-4 Junior (Beppe Masia, ITA)
Latvian Retriever Specialty 18.09.2011: Winner of Junior Class, Junior CC = Latvian Junior Champion (Yvonne Saussi, SWI)
Viimsi 17.07.2011: Winner of Junior Class, Junior CC = Estonian Junior Champion, Best of Opposite Sex Junior (Istvan Nagy, SER)
Viimsi 16.07.2011: Winner of Junior Class, Junior CC, Best of Breed Junior.
Retriever Specialty 4.6.2011: Best of breed Junior, BEST IN SHOW-3 Junior (Gera Toeters-Riethoff, Netherlands).
Labrador Specialty 3.6.2011: EXC/3 in Junior Class (Manuel Queijeiro, Mehhiko)
Vaimastvere Group Specialty 9.01.2011: Best of Breed Baby & BIS-3 Baby (Beata Petkevich, LV).
Puppy & Veteran show 4.12.2010: Best of Breed Baby (Inga Siil, EST).
KATSETE TULEMUSED
Läbinud retriiverite tõukatsed 6.08.2011, koerajuhiks Geito Oolo, kohtunik Risto Aaltonen (Soome).
KOHTUNIKUD TEMAST
Juta Haranen, EST: "3-aastane tugev emane, naiselik pea ja ilme, silmad-kõrvad korrektsed, head hambad, tugev selg, innukas liikuja, jõulise sammuga, hästi esitatud."
Beppe Masia (kennel Masialab, ITA): "13 months, enjoyable temperament with tail all ways in movement, good muzzle and skull, well set ears, reach of neck in strong shoulder, correct topline and tailset, correct bone and angulation, drive with excellent action." BOB-Junior, BIS-4 Junior.
Manuel Queijeiro (kennel Queijeiro, Mehhiko): "Excellent breed type, very nice head, would like to see darker eye, very good neck and shoulders, good topline and tailset, beautiful mover." – III koht juuniorklassis, labradoride erinäitus 2011 Luige.
Yvonne Saussi (SW) "14 months, typical size, feminine head, well shaped eye of correct colour, strong neck, excellent front angulations, level topline, short strong loin, excellent tailset and carriage, correct rear angulations, moves very well from side, a little close behind."
Beata Petkevica (LV) "Very attractive and promising, excellent pigmentation, correct proportions of body, excellent neck, excellent shape and work of tail, excellent temperament, moves very well."
GALERII
VIDEOD
Siin on väike video Juanitast tema elu teisel näitusel, Vaimastveres 9.1.2011 toimunud rühmanäitusel, kus ta oli BEST IN SHOW-3 beebi! Aitäh, Britta!
Järgmine video on tehtud tõukatsel 28.05.2011, filmitud on otsimisala tööd. Viis lindu on ära peidetud ning kuues visatakse koos püssipauguga. Juanita peab kõik leidma ja tooma. Juanita koerajuhiks oli Britta Puusepp.
Juanita on pärinud oma ema ja vanaema klounigeeni ja viis, mille ta leidis, et ootusärevaid inimesi katsel lõbustada, on näha järgmisel videol (2:44). Õnneks oli kohtunikul hea huumorimeel ja Juanita läbis testi.