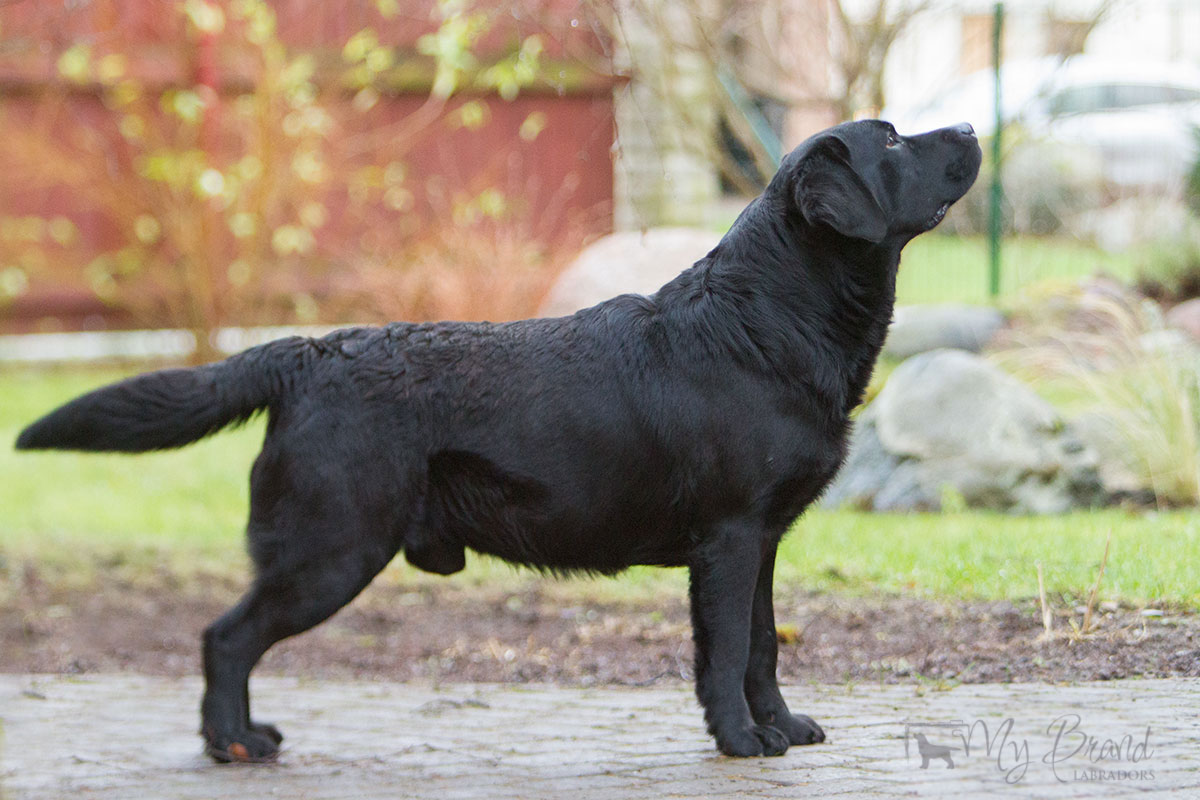 "Sammy"
* 2 years old on the photo.
Black male (BBEe, carries yellow)
DoB 23.11.2013
Breeder Eva Vilamo, Finland.
HEALTH RECORD
hips B/A
elbows 0:0
eyes clear (Nov'17)
prcd-PRA Clear By Parentage
EIC Carrier (n/EIC)
HNPK (Hereditary Nasal Parakeratosis) Clear (n/n)
CNM (Centronuclear Myopathy) Clear (n/n)
CY (Cystinuria) Clear (n/n)
DM (Degenerative Myelopathy) Clear (n/n)
HUU (Hyperuricosuria) Clear (n/n)
PKD (Pyruvate Kinase Deficiency) Clear (n/n)
Sammy is staying in Netherlands until 2019 fall. All inquieries to Bianca Schmidt, Tika Trails Labradors.
Sammy has got the sweetest temperament and eyecathing looks. We are looking forward to his progeny. In his first show in Estonia, under respected judge Margaret Brown Sammy finished 2nd in Puppy Class.
Sammy was visiting Poland, kennel Malmesbury in 2016-2017. Thank you, Beata, for taking care of him and using him in your breeding program. All the best luck to his progeny there!
SAMMY'S PEDIGREE
AM BISS GCH Mtn Meadow Buckeye Brutus OFA good, ED OFA normal, Eyes Clear, prcd-PRA Normal/Clear Heart OFA Normal
(USA)
AM CH Mtn Meadow Black Eye Affair
(USA)
AM CH Kai Den´s Black Tie Affair JH
CH Guideline's Master Card
CH Hennings Mill Hase'N to Kai Den WC
AM CH Mtn Meadow It's About Time
AM CH Dickendall Arnold
Mnt Meadow Party Time
AM CH Mtn Meadow What a Sight
(USA)
AM CH Springbok's Out'A-Sight
BISS CH Lobuff's Bare Necessities CD JH
AM CH Blackthorn Springbok Mujaji
AM CH Mtn Meadow Lady Godiva
AM CH Mtn Meadow Romeo
Classic Mt Meadow Lady Luck
Follies Maryland
HD A/A ED 0:0, Eyes Clear, prcd-PRA Clear, EIC Carrier (N/EIC)
(FIN)
AM CH Lubberline Martingale
(USA)
Hunt Club Clayview Funny Bear
AM CH Lenches Teddy Bear
Windfall´s Stand Up Comic
AM CH Hennings Mill Lubberline Jib
AM CH Scartho Frost
AM CH Rocheby Rippling Corn
Tweedledum Folies Bergerer
(FIN)
C.I.B FI EE RU CH NORDW-01 FIW-01 FIW-02 Follies Storm Petrel
FI CH Brookhill´s Daddy´s Hope
Follies Olympia
Tweedledum Curtain Call
AM CH Dickendall Arnold
Tweedledum Mascara

SHOW RECORD
Labrador Specialty 22.8.2015: Winner of Intermediate Class, CQ, Best Male-2, CC (Hans Rosenberg, SW)
Labrador and Flatcoated Specialty in Tallinn 21.8.2015: 3rd in Intermediate Class, CQ (Linda Harvey Major, UK)
Labrador Specialty Tallinn 29.5.2015: 3rd in Intermediate Class with "excellent" (Paul Collins, UK)
INT Helsinki 23.5.2015: 2nd in Intermediate Class, CQ, Best Male-4 (Hannele Jokisilta, FIN)
Group Show in Savitaipale, Finland 2.5.2015: Winner of Intermediate Class, Best Male, CC, Best of Breed (Riitta Liisa Lehtonen, FIN)
Tallinn Winter Cup'15 15.02.2015: 4th in Junior Class and "excellent" (Hannele Jokisilta, FIN)
INT Minsk "Autumn'2014" 23.11.2014: "excellent" in Junior Class (Ozan Belkis, Turkey)
INT Minsk "Belorus'2014" 22.11.2014: 2nd in Junior Class with "excellent" (Luis Manuel Calado Catalan, Portugal)
Labrador Specialty Savastvere 2.8.2014: II in Puppy Class (Margaret Brown, UK)
Labrador Specialty in Finland 7.6.2014: …

JUDGES ABOUT HIM
Linda Harvey Major (UK):
"Strongly made, well muscled throughout, good head and expression, neat feet, good depth of chest, lovely angulation, excellent double coat, powerful mover."

Margaret Brown (kennel Ramsayville, UK):
"Beautiful head on this black, good balance between head and muzzle, excellent legs and feet, good topline, well balanced overall, moved soundly."
SAMMY'S GALLERY