ESTONIAN JUNIOR CHAMPION
RUSSIAN JUNIOR CHAMPION

LATVIAN JUNIOR CHAMPION
BALTIC JUNIOR WINNER 2005
ESTONIAN JUNIOR WINNER 2005
ESTONIAN WINNER  2005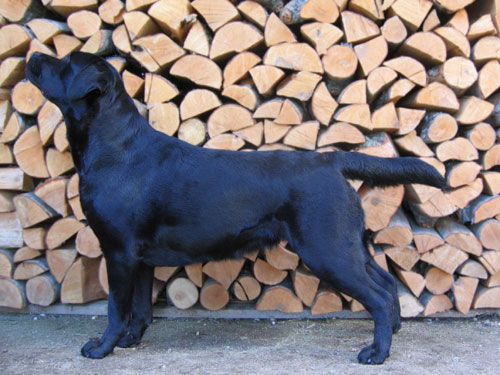 "Brandy"
black female
6.5.2004 – 6.5.2013
Breeder Anu Honkapirtti, Finland
Owner Laura Erik, Estonia
HEALTH RECORD
hips A/A
elbows 0:0
Eyes Clear (April 2004)
prcd-PRA Carrier
Brandy left a big paw print to many of our dogs and our memories. Her adventures with Laura in her puppyhood were worth a TV serial and she was no ordinary dog. She had dignity at one moment and was absolutely a fool on the second one.
Her show carreer was short, but memorable. Her titles came with very limited showing. Brandy is a mother of our I-litter and from that litter we have several important dogs in our kennel and also in some kennels in the world. Thank you!
Brandy was loved and owned by Laura Erik and you can see her breathtaking photos of Brandy here. 

PEDIGREE
Visions I'm Able
HD: OFA good ED: OFA normal, silmad puhtad (USA)
Multi BISS AM CH Sounder's Hear Me Roar
(USA)

Guideline's Fat Cat

Fieldvalley's Fabianco

Guideline's Carbon Copy

Sounder's Vada Of Somis

AM CH Delby's Anchor Steam

Guideline's Dewar's Blend

AM CH Kelleygreen Amazing Grace
(USA)

Visions American Express

AM CH Guideline's Master Card

Weathertop Television

Kelleygreen Starling

AM CH Tabatha's Drifter At Dickendall

Charway Ballywren

Rosanan La Rosa
HD A/B ED 0:0
silmad puhtad,
prcd-PRA Carrier
(FIN)
Mallorn's Arcturus
(FIN)

FIN CH Mallorn's Shenandigan

Rosanan Whisky Sour

FIN CH Mallorn's Opium

FIN CH Boothgates Miz Showbusiness

Brandhams Show Stopper

Oulsmi Endless Love

Rosanan Desert Rose
(FIN)
FIN CH Junior-WW'98 Rosanan Chelsea Bun

Boothgates Headliner

FIN CH Rosanan Imperial Rose

FIN CH Rosanan Purple Rose

Tweedledum Modern Talking

FIN CH Tweedledum Sweet'N'Rosy
SHOW RECORD
Lithuania, 15.10: Best Female, CC, BOS,
Labrador Specialty Show 19.08.2006: III in Open Class,
Finnish Labrador Main Specialty'06: II place in Open Class!
Luunja, 3.07.2005: Best of Breed, Best of Breed Junior, Group-2, jun-CC, CC
Russia, 19.06.2005: Best of Breed, Best of Breed Junior, Junior Best In Show-2, Group-2 (jun-CC, CC)
JUDGES ABOUT HER
Peter F Berchtold (kennel Starchant, Austria), labradoride erinäitus 25.04.09: " Excellent type, super head and expression; good reach of neck, topline and tailset; good chest, excellent forechest and angulations, correct coat and tail, happy free mover."
Eva Mjelde (kennel Surprisings, Norway), 14.-15.05.2005 Estonian Winner Show'05 in Tallinn – "excellent type for bitch, nice head and expression, good neck and shoulder, wellmade body and quarters, good coat and moves well." (Best of Breed Junior, Best of Females, Best of Breed, ESTONIAN WINNER 2005, ESTONIAN JUNIOR-WINNER 2005)
Kate Crosbie (Ireland), 12-13.02.2005 International Dog Show in Tallinn – "Very nice quality black, very well angulated back and front. Good level topline. Good otter tail. Moved very well." (BOB-Junior, Jun-CC)
Anne Taylor (kennel Fabracken, UK), 13.02.2005 Specialty Show for Retrievers – "Nice medium size bitch. Would prefer more length of muzzle and a less round eye, bone OK, good length of leg, coat could be tenser, clean outline, good topline and tailset, moved soundly."
Marianne Holm-Hansen (Denmark), 12-13.03.2005 Latvian Winner Show'05 in Riga – "10 months, excellent type with good head, well angulated & well developed for age, correct top line & tail set, excellent coat & tail, moves soundly, well presented, would prefer a darker eye." (Jun-CC, Best Female-2)
GALLERY