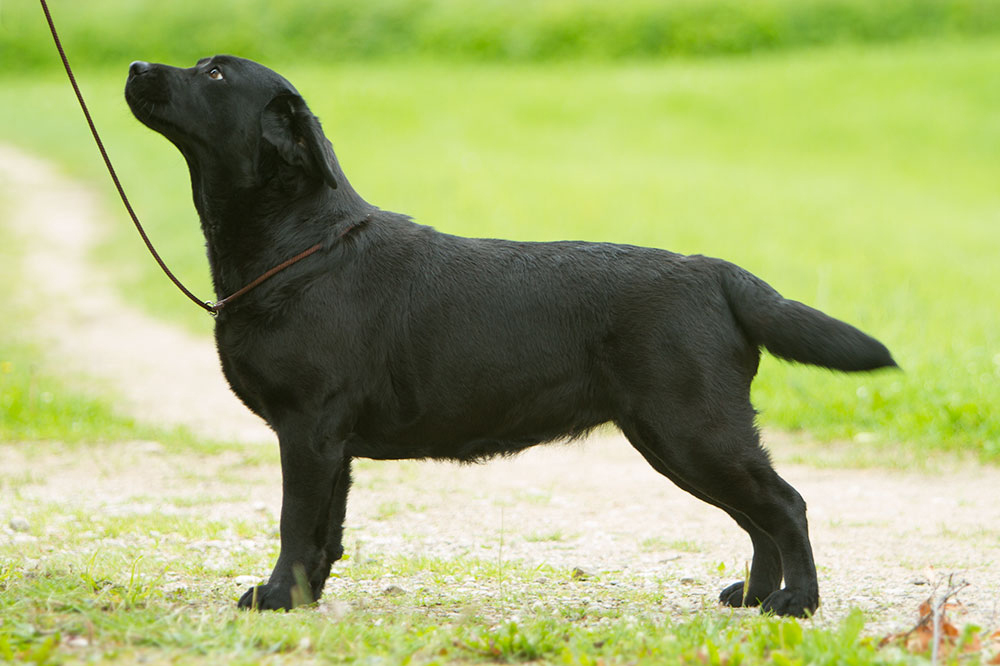 "Loola"
* 3 years old on the photo.
black female (EEBb, carries chocolate, does not carry yellow)
DoB: 11.04.2013
Breeder Dominika Pieczonka, Poland
Co-owner Birgit Truus, Estonia.
HEALTH RECORD
hips A/A,
elbows 0:0
eyes clear (Nov'17)
prcd-PRA Clear By Parentage
EIC Clear (N/N)
HNPK N/N Clear By Parentage

Loola is an adorable labrador, co-owned and loved by Birgit. She has started her show carreer with quite a wonderful results and I hope the future will be bright for them!
I am so grateful to Beata and Dominika, for trusting this beautiful baby to us!
LOOLA'S PEDIGREE
POL JCH Mallorn's Black Gangsta
HD A/A, ED 0:0, prcd-PRA Normal/Clear, EIC Clear
(FIN)
Mallorn's Romeo
HD A/A ED 0:0, prcd-PRA Normal/Clear, EIC N/N
(FIN)
Visions I'm Able
Multi BISS AM CH Sounder's Hear Me Roar
AM CH Kelleygreen Amazing Grace
Rosanan La Rosa
Mallorn's Arcturus
Rosanan Desert Rose
Mallorn's Premium Chocolate
HD A/A ED 0:0 prcd-PRA Normal/Clear
(FIN)
NORW SW SH CH Mementos Mario
CH Cha's Didrik Champ
CH Mementos Fantasia
Mallorn's Chocomotion
SW CH Tjotte's Now Or Never
FIN CH Boothgates Miz Showbusiness
Pretty Since Birth Z Grodu Hrabiego Malmesbury
HD A/A ED 0:0, prcd-PRA Normal/Clear
(POL)
Lab Treasure's Windsor
HD A/A ED 0:0 prcd-PRA Normal/Clear EIC N/N
(DK)
DK SW CH
Gowanvale Balance
GB SH CH Naiken Kris
Oulsmi Run Away To Gowanvale
Lab Treasure's Hazelnut
Bonaventure Lubberline Viscount
INT DK SW CH KBH W'00 NORD W'00 KBH W'03 D CH O'Sofina's Quite As Nice
Maroccan Velvet Ushimi HD A/A ED 0:0, prcd-PRA Normal/Clear
(POL)
SR CH My Faith Tankaram
Lab Treasure`s Born To Be Wild
Anyan of Great Pleasure
Maroccan Velvet Misha
CH Tjotte's Buffalo Bandit
PL CH Quite Nice Zandalle

SHOW RESULTS
| Date | Show | Judge | Class | Tulemused |
| --- | --- | --- | --- | --- |
| 05.08.2018 | 8 ja 9 rühma näitus, Tartumaa | Viktor Shiyan (Ukraine) | Open Class | EXC 2 |
| 04.08.2018 | 8 ja 9 rühma näitus, Tartumaa | Sergii Slukin (Ukraine) | Open Class | EXC 1 |
| 21.07.2018 | Rahvuslik näitus, Tartumaa | Dina Korna (Eesti) | Open Class | EXC 3 |
| 05.02.2017 | Rahvuslik näitus, Valga spordihall, Valga | James Byrnes (Ireland) | Open Class | EXC 3 |
| 31.08.2014 | Kõikide tõugude näitus, Väimela | Kalvo Kriisk (Eesti) | Intermediate | EXC 1 CQ BB1 BOB CC |
| 02.08.2014 | Labradori retriiverite erinäitus, Tartu maakond | Margaret Brown (UK) | Junior Class | EXC 1 CQ BB1 BOSJ BOS |
| 20.07.2014 | Kõikide tõugude näitus, Tartumaa | Suncica Lazic (Serbia) | Junior Class | EXC 1 CQ BB2 BOBJ JunCC |
| 19.07.2014 | Kõikide tõugude näitus, Põlvamaa | Colm Beattie (Ireland) | Junior Class | EXC 1 CQ BB2 BOSJ JunCC |
| 14.06.2014 | V ja VIII rühma näitus, Tartu maakond, Annikoru, Ratasepa talu | Jo Schepers (Netherlands) | Junior Class | EXC 1 CQ BB1 BOSJ JunCC BOS |
JUDGES ABOUT HER
PHOTOS OF LOOLA