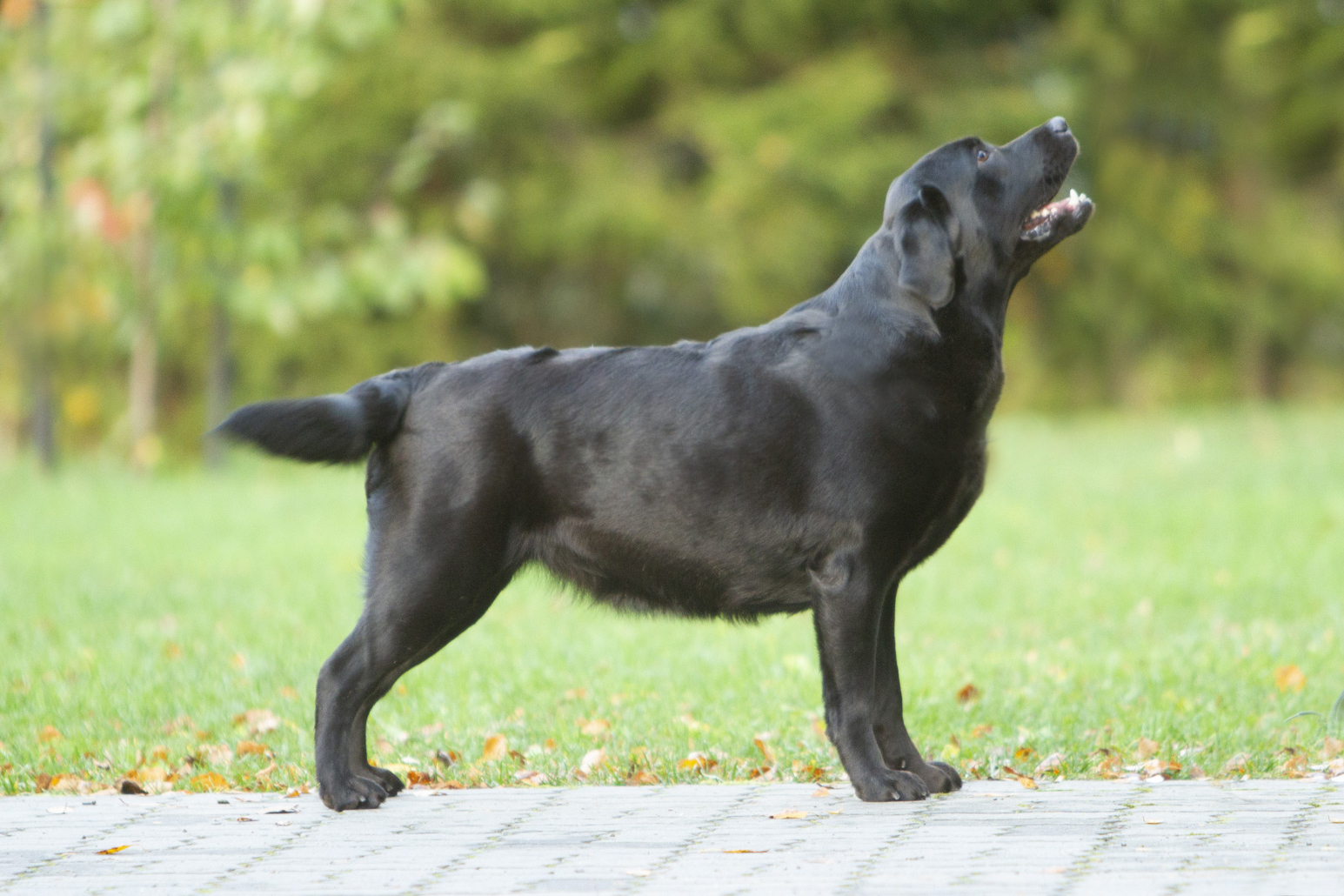 "Jenny"
* 17 months old on the photo. Photo by My Brand Labradors.

black female (BBEe, carries yellow)
DoB 30.4.2020
Co-owned with Mari Kipper, Estonia
HEALTH RECORD
hips A/A
elbows 0:0
eyes checked 2021 – clear
heart echo doppler clear (2021)
GENE TESTS
Prcd-PRA: Normal/Clear
EIC: EIC/N carrier
HNPK: N/N
CNM: N/N
Narcolepsy: N/N
DM: N/N
CY: N/N
Long coat gene: carrier
Jenny is a sweet and promising youngster from a litter by Queijeiro Kloster, out of My Brand First Class Five Star. Keeping our fingers crossed for her and her littermates!

PEDIGREE
sire: Queijeiro Kloster Mex.Fci.
HD A/A ED 0:0 Eyes Clear
EIC, HNPK, prcd-PRA, CNM, DM, long coat, CY Normal/Clear
(EST)
Queijeiro Mistery Jackpot Mex.Fci
(MEX)
Am CH Mex GCH CH Pol CH Vegas Night Bella Mare
MBISS Am GCH CH Pol CH Dickendall Buckstone Three Dog Night
Pl CH Sandamar Hyspire You'Re So Vain
Queijeiro Rio Tinto
GCH CH Mtn Meadow Buckeye Brutus
Queijeiro La Gatina
Queijeiro Dany Mex.Fci.
(MEX)
Bomberg Anguiano Mex.Fci.
Hollyridge Lobuff Taylor Made
Anya Stroud Anaguiani Mex.Fci
Queijeiro Noella Mex.Fci.
Dickendall Noir Queijeiro

Queijeiro Black Gina Mex.Fci
dam: My Brand First Class Five Star
HD A/A ED 0:0 Eyes Clear
HNPK, prcd-PRA Normal/Clear, EIC Carrier
(EST)
MEX EST CH Tabatha's Caffu Queijeiro HD OFA good, ED OFA normal, Eyes Clear, prcd-PRA Normal/Clear
(USA)
MEX CH Dickendall Bucky
NL CH NLV CW '99 NW '99 Trendmaker's Tycoon
Dickendall Barbie
AM CH Tabatha's Gala WC
AM CH Dickendall Davaron Gable
AM CH Tabatha's Giggle WC
Tweedledum Baila Baila
HD A/A ED 0:0, Eyes Clear, prcd-PRA Clear
(FIN)
FIN CH Devonshires London Edition
Am Ch Devonshires Limited Edition WC
AM CH Devonshires Darjeeling
Tweedledum Give N Take
Mallorn's Ursus Arctos
FIN EST CH Tweedledum Purple Evening

SHOW RECORD
Hopefully soon

JUDGES ABOUT HER
GALLERY