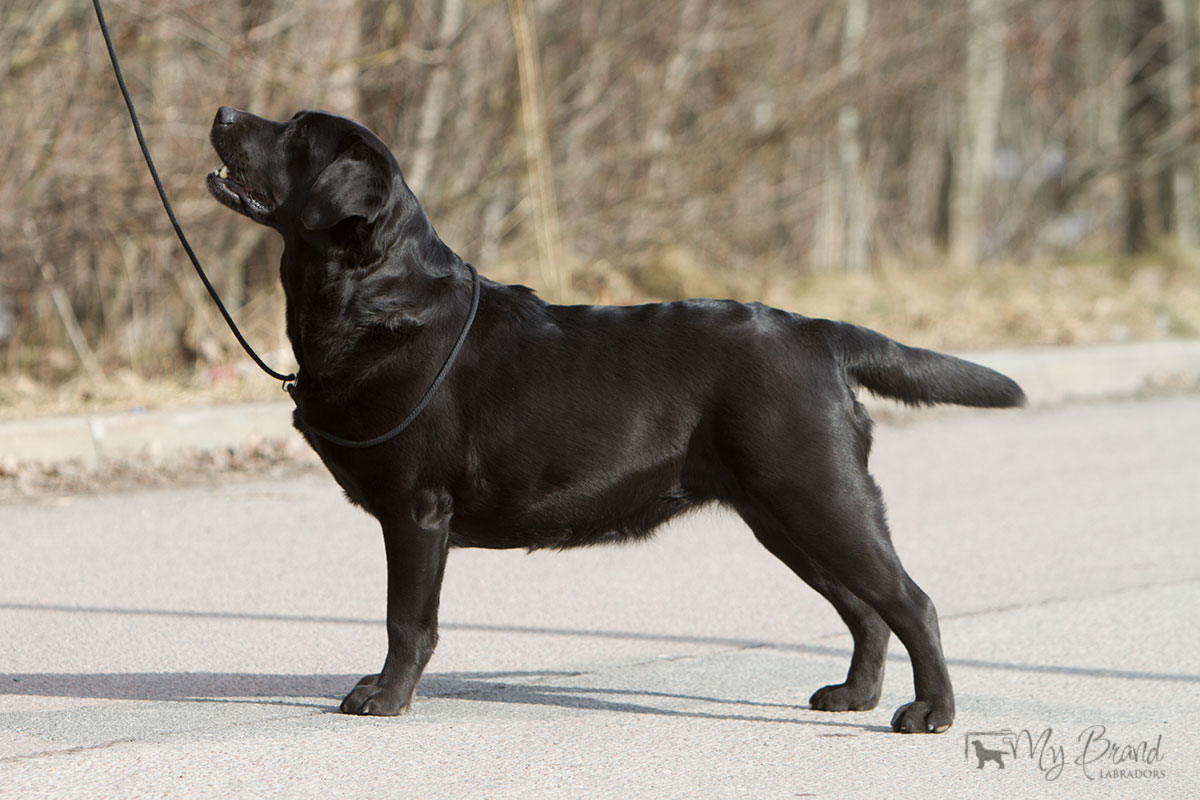 "Tessa"
* fotol 3-aastane.
must emane (BBEe, kannab kollast)
sünd: 10.9.2014
Kaasomanik Tarmo Virkus, Eesti
TERVISEUURINGUD
puusad A/A
küünarliigesed 0:0
silmad puhtad (märts 2018)
prcd-PRA puhas (vanemad puhtad)
HNPK puhas
Tessat on hea luustiku ja suurepärase karvaga must emane, kes on saanud oma esivanematelt kaasa rõõmsa ja muretu suhtumise ja leebe iseloomu. Samal ajal kui ta leia igas päevas midagi, mille üle rõõmustada, ei muutu ta kunagi pealetükkivaks. Tema veetlev happy-go-lucky suhtumine ellu on inspireeriv.
TESSA SUGUPUU
MEX EST CH Tabatha's Caffu Queijeiro HD OFA good, ED OFA normal, Eyes Clear, prcd-PRA Normal/Clear
(USA)
MEX CH Dickendall Bucky
(USA)
NL CH NLV CW '99 NW '99 Trendmaker's Tycoon
SW DEN FIN NORD CH Trendmakers Mugwump
Trendmakers Traffic Jam
Dickendall Barbie
Mex CH Milton of Little By Little
Tweedledum Calling Texas
AM CH Tabatha's Gala WC
(USA)
AM CH Dickendall Davaron Gable
CH Dickendall Arnold
Wolvercote Gaity Girl
AM CH Tabatha's Giggle WC
Scent Trails Tug Of War
AM CAN CH Tabatha's Dazzle WC
Tweedledum Baila Baila
HD A/A ED 0:0, Eyes Clear, prcd-PRA Clear (FIN)
FIN CH Devonshires London Edition
HD B/B, ED 0:0, Optigen prcd-PRA Normal/Clear, EIC Clear (N/N)
(USA)
Am Ch Devonshires Limited Edition, WC
Timberland Woodsman At Lor-Al
AM CH Devonshires Abby Lane
AM CH Devonshires Darjeeling
AM CH Lobuff's Bobwhite at Chucklebrook
Devonshires Jasmine
Tweedledum Give N Take
HD A/A ED 0:0, Eyes Clear, prcd-PRA Normal/Clear
(FIN)
Mallorn's Ursus Arctos
Visions I'm Able
Mallorn's Mmm Marabou
FIN EST CH Tweedledum Purple Evening
FIN W'03 Mailiksen Gentleman
Tweedledum Curtain Call
NÄITUSTE TULEMUSED
25.3.2018 Tallinn: SP/2 avaklassis (Luis Peixoto, POR)
KOHTUNIKUD TEMAST
Loodetavasti varsti.
PILTE TESSAST