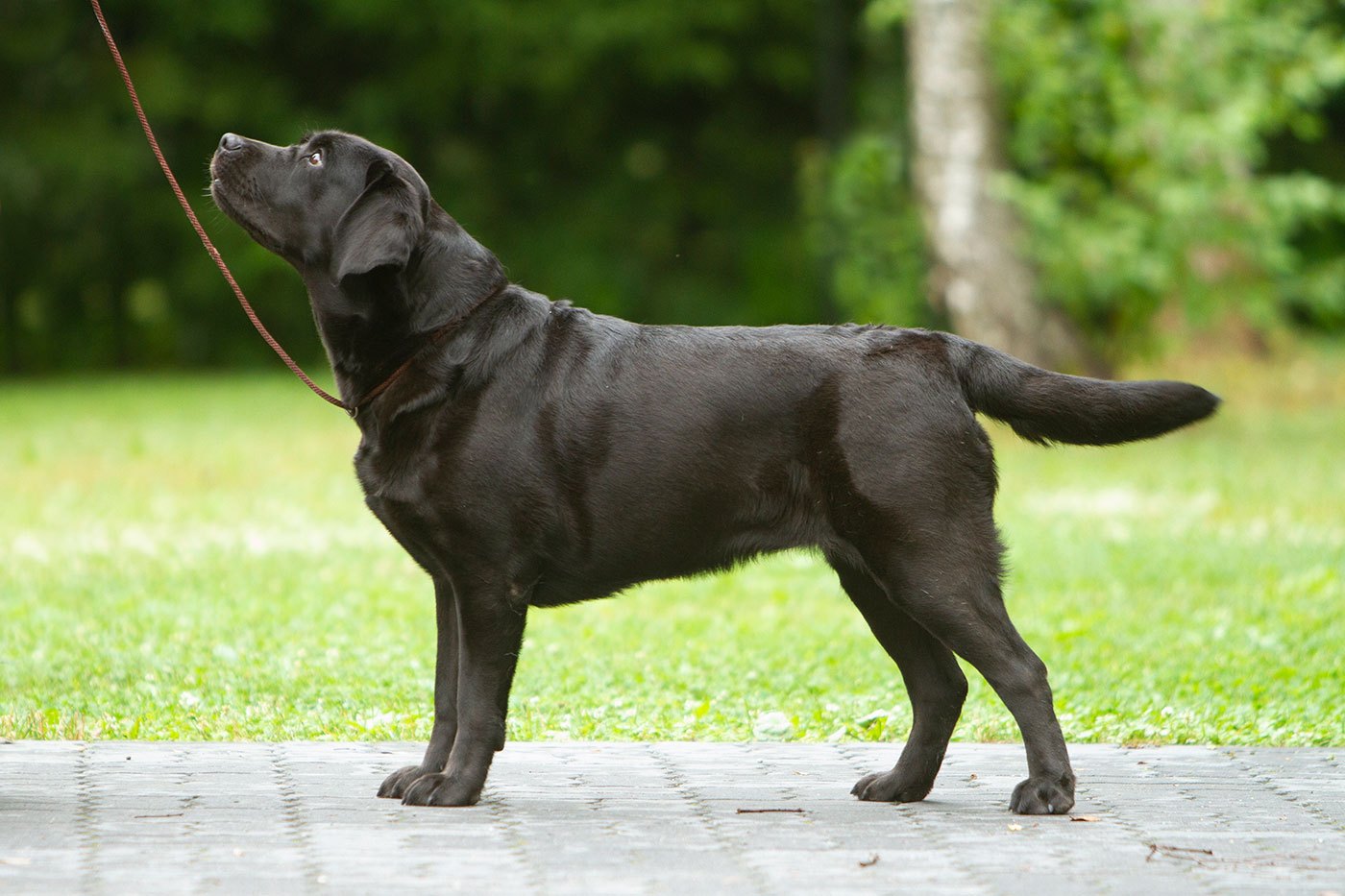 "Poppy"
3 years old on the photo.
black female (BBEe, carries yellow, does not carry chocolate)
DoB 7.5.2018
Co-owned with Martin Metsla, Estonia
HEALTH RECORD
hips A/A
elbows 0:0
eyes clear (October 2019)
prcd-PRA Normal/Clear by parentage
HNPK Normal/Clear by parentage
EIC Carrier (N/EIC)

Poppy charms us with her quiet and calm temperament, she loves children and other dogs, is always happy to play and so easy to live with. A true labrador!
PEDIGREE
sire: EST JCH EST JW'18 EST W'18 My Brand Sky Wizard
HD A/A ED 0:0 Eyes Clear
EIC, HNPK, prcd-PRA Normal/Clear
(EST)
World Winner'16 EUR Winner'16 CIB CIE RUS JCH RUS FIN LTU KZS RKF CH
West Sib Story Idaho
HD A/A ED 0:0
PRA-prcd Normal/Clear
EIC Carrier
(RUS)
Larkspur Lynx
CH Larkspur's Lothario
Nirvana's Jade Gate
INT RUS USB KAZ GR RKF CH Lab'Spb Alabama Girl
CH Gateway's Nothin' But Trouble
CH Mallorn's Esencia
Arctic Sky Aquarelle
HD C/C ED 0:0 Eyes Clear
prcd-PRA Clear By Parentage
EIC Normal/Clear
HNPK Clear By Parentage
(POL)
POL CH JCH LUX JCH JCW'11 Arthus Sarracenia Majestic Chameleon
Buttonwood McIntosh
Wenie Malmesbury Sable Blues
POL EST LTU CH My Brand Ebony At Aquarelle

NORD SW & NORW CH Licithas Terje Vigen

FIN EST LV LTU BALT CH EST LV CH EST LV LTU BALT JCH BALT JW'04 9 x BISS Mallorn's Elysee
dam: My Brand First Class Five Star
HD A/A ED 0:0 Eyes Clear
HNPK, prcd-PRA Normal/Clear, EIC Carrier
(EST)
MEX EST CH Tabatha's Caffu Queijeiro HD OFA good, ED OFA normal, Eyes Clear, prcd-PRA Normal/Clear
(USA)
MEX CH Dickendall Bucky
NL CH NLV CW '99 NW '99 Trendmaker's Tycoon
Dickendall Barbie
AM CH Tabatha's Gala WC
AM CH Dickendall Davaron Gable
AM CH Tabatha's Giggle WC
Tweedledum Baila Baila
HD A/A ED 0:0, Eyes Clear, prcd-PRA Clear
(FIN)
FIN CH Devonshires London Edition
Am Ch Devonshires Limited Edition WC
AM CH Devonshires Darjeeling
Tweedledum Give N Take
Mallorn's Ursus Arctos
FIN EST CH Tweedledum Purple Evening

GALLERY