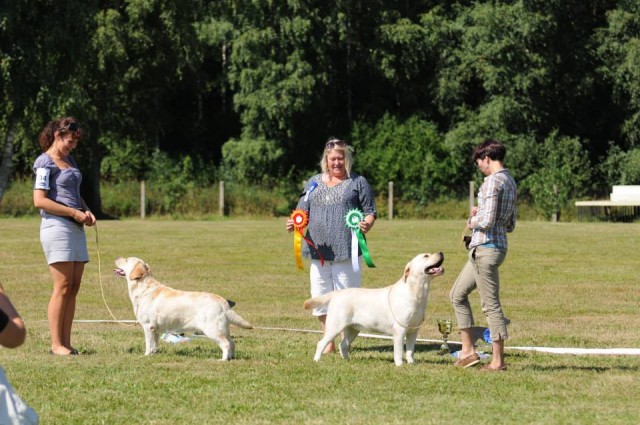 (BOB – My Brand Espirit, BOS – Waterline's Sasso)
Labrador Specialty in Luige 3.8.2013, judge Lehe Johansen (kennel Dee-Fair, Denmark):
MY BRAND ESPIRIT (Amelie): Winner of Champion Class, Best Female and Best of Breed – BEST IN SHOW!
MY BRAND SPECIAL BLEND (Bosse): BEST OF BREED Puppy! Congratulations!
KARANKAWA MAIARA (Pippa-Lota): "excellent" in Junior Class,
AMERICAN LEGEND AQUARELLE (Lenna): 4th in Junior Class,
TWEEDLEDUM BAILA BAILA (Riia): 3rd in Junior Class,
VELVETLINE'S ZSANETT (Victoria): Winner of Open Class, CQ, BEst Female-3, CC!
NIPNTUCK FIRST LADY (Emma): Winner of Working Class, CQ.
Many congratulations also to the FOREST FAN XERXES, son of our Caffu, who won the Baby Class!